Eight Seasonal Recipes to Try this Spring
Springtime brings a new life to the year — budding flowers, baby animals, and most importantly: a vibrant array of fruits and vegetables. Finding produce in-season is the single most effective way to maximize the deliciousness of your cooking and the nutrition of your vegetables. That's because in-season veggies are allowed to ripen naturally, and they soak up all of nature's goodness while they do. Be sure to check your local farmers market for the freshest in-season produce or peruse your usual grocery store for mushrooms, kale, spinach, garlic, broccoli, asparagus, and other vegetables.
Here are some recipes that feature spring seasonal produce to delight your senses and kick off this sprightly season.
Spicy Roasted Broccoli With Lemon & ZENB Rotini Pasta
Kick up your dinner rotation with this recipe featuring red pepper flakes and seasonal broccoli. Add an extra level of zest with springtime lemon and rich crumbled feta cheese.If you're lucky enough to find purple sprouting broccoli at your local farmers market, that makes a colorful, exciting swap for regular broccoli! It's usually in season between late February and late April.
Spinach-Basil Pesto With ZENB Penne Pasta
Making your own pesto may seem daunting at first, but this versatile, vegan, gluten-free sauce is packed with spinach for a foolproof way to ensure you're eating your spring veggies.
For savvy home cooks who love to cook ahead, it's worth noting that pesto freezes really well! Make a double-batch and spoon the sauce into a clean ice cube tray, which can be thawed and used in the future to boost sauces, dressings, and marinades.

On those unexpectedly warm spring days, cook up this fresh, Mediterranean-inspired pasta salad to enjoy al fresco or at a picnic. Because quick-cooking ZENB Pasta Agile only takes three minutes to cook, you'll be spending less time in the kitchen and more time soaking up the sunshine!
Kimchi Bibim Guksu

Inspired by Korean cuisine, this light, spicy noodle dish brings a kick of heat and lots of fun, contrasting textures. The addition of fermented kimchi also makes this a gut-friendly meal.
Bonus: This cold noodle dish makes a perfect lunch; pack it into a bento box or a mason jar for easy, mess-free transport!
ZENB Rotini Pasta With Salmon, Olives, & 30 Cloves Of Garlic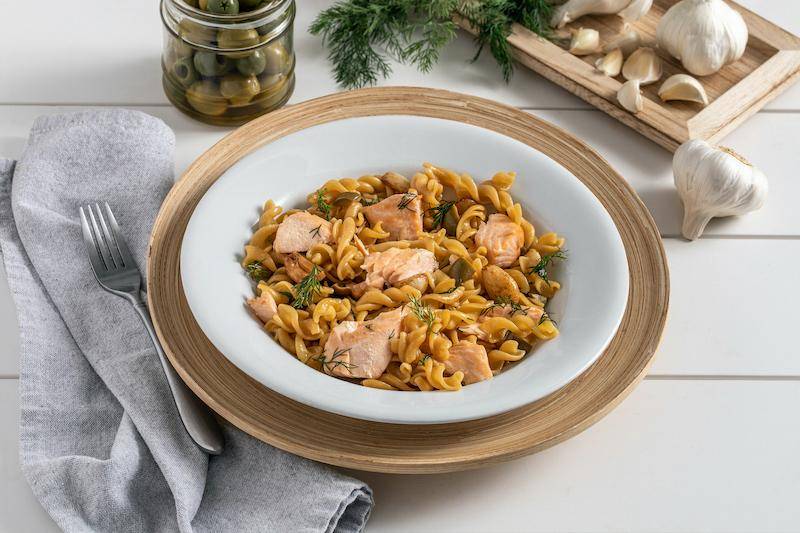 Garlic-lovers unite! With a stunning two heads of garlic packed into it, this pasta dish is the perfect showcase for garlic in its peak season. Add salmon to boost omega-3s for a dinner that brings 44 grams of protein to your table.
ZENB Rotini With English Peas, Shrimp, & Mint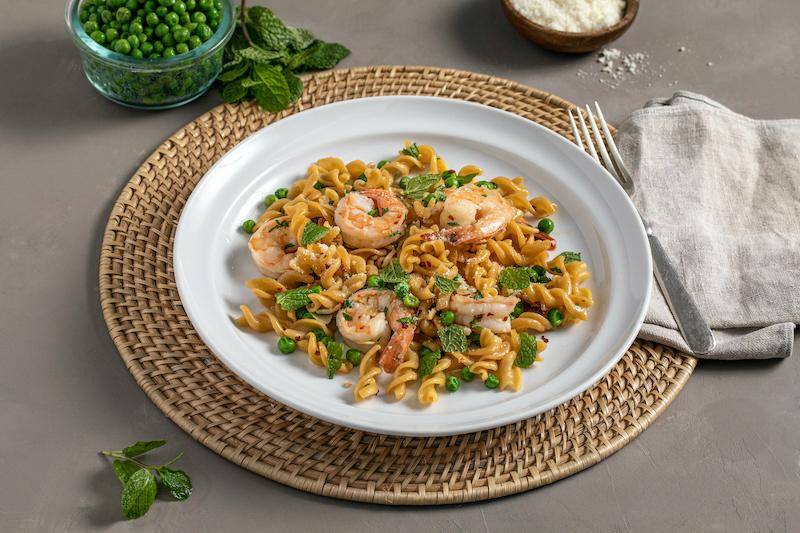 Featuring pecorino cheese along with peas and onions, this recipe packs in classic springy flavors while coming in at under 600 calories. Finishing the pasta off with lemon and mint adds a zesty, herbal touch to amplify the complexity of the dish.
Spinach Artichoke ZENB Penne Pasta
Artichokes and spinach are some of the first green vegetables to make an appearance on the spring produce stage, and we are always thrilled to see them after the long winter! Creamy and crave-worthy, this charming pasta dish takes the flavors of the classic party dish and invites them to dinner.
Golden Lentils With Vadouvan Curry Broth & ZENB Elbows Pasta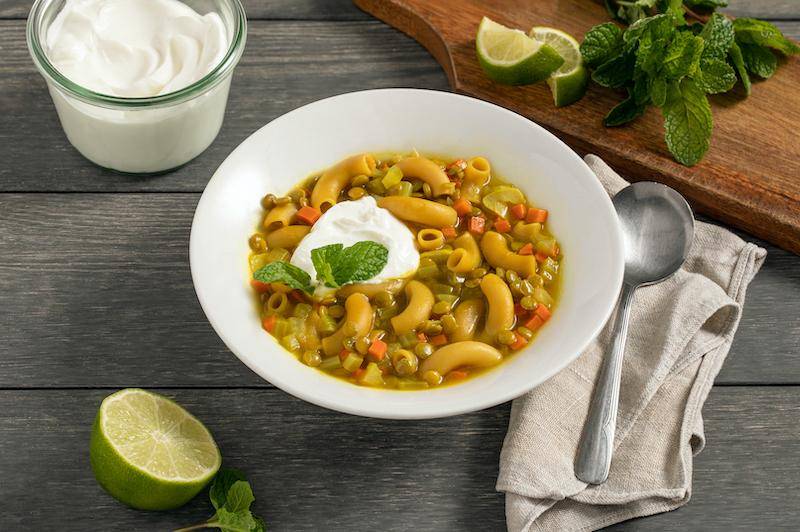 Skip takeout night with this curry filled with protein and iron. This pasta packs in fresh spring veggies like celery, peas, and onions to fill you with fiber and adds protein with tender golden lentils.



Whichever recipes you choose to enjoy, remember to embrace the new beginnings of the season. Nature's goodness can be found year round, but quite literally comes to life in springtime. Defrost from winter with warm, nourishing, and fresh dishes — and enjoy the new season!
---