5 Seasonal Recipes to Warm Up for Winter
Ah, winter. Where others see the end to sunshine, we see an opportunity. No longer is winter the cold, dead-end season, but rather a time to explore and experiment, inside and out, and especially with your meals. (After all, the kitchen is the warmest part of your home!) It's the perfect season to take stock of what matters and make big plans for the new year ahead, like eating more veggies or getting more exercise.  Of course, it's no secret that the change of seasons also gives us a whole new list of produce to shop seasonally! Shopping with the seasons has all kinds of benefits like better nutrition, enhanced taste, and more — and you don't have to stop shopping seasonally when there's snow on the ground. Despite its reputation, winter actually provides us with all sorts of delicious produce like:
Beets
Brussels Sprouts
Cabbage
Carrots
Celery
Collard Greens
Kale
Leeks
Onions
Parsnips
Pears
Potatoes
Sweet Potatoes
Swiss Chard
Turnips
Winter Squash
So what's in store for your winter wonderland? Check our recipes featuring seasonal faves and flavors!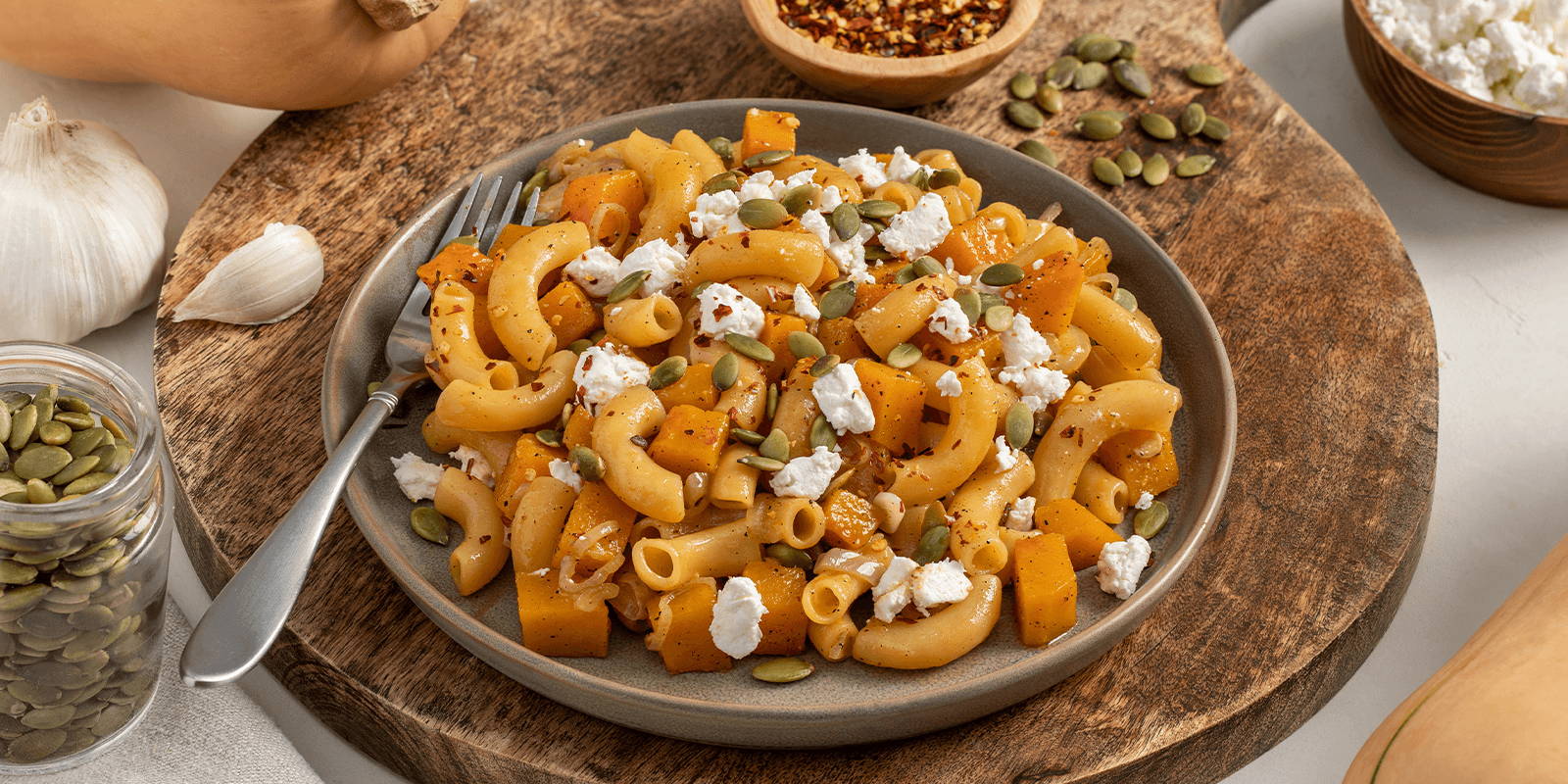 Perfectly meltingly tender squash combined with creamy goat cheese and topped with pepitas… give us a plate! This recipe is perfect for the transition from fall to winter with butternut squash, a bright orange beauty which can stick around well into the winter months. Pro Tip: Feel free to swap in your favorite winter squash like delicata or acorn for a change of pace and flavor.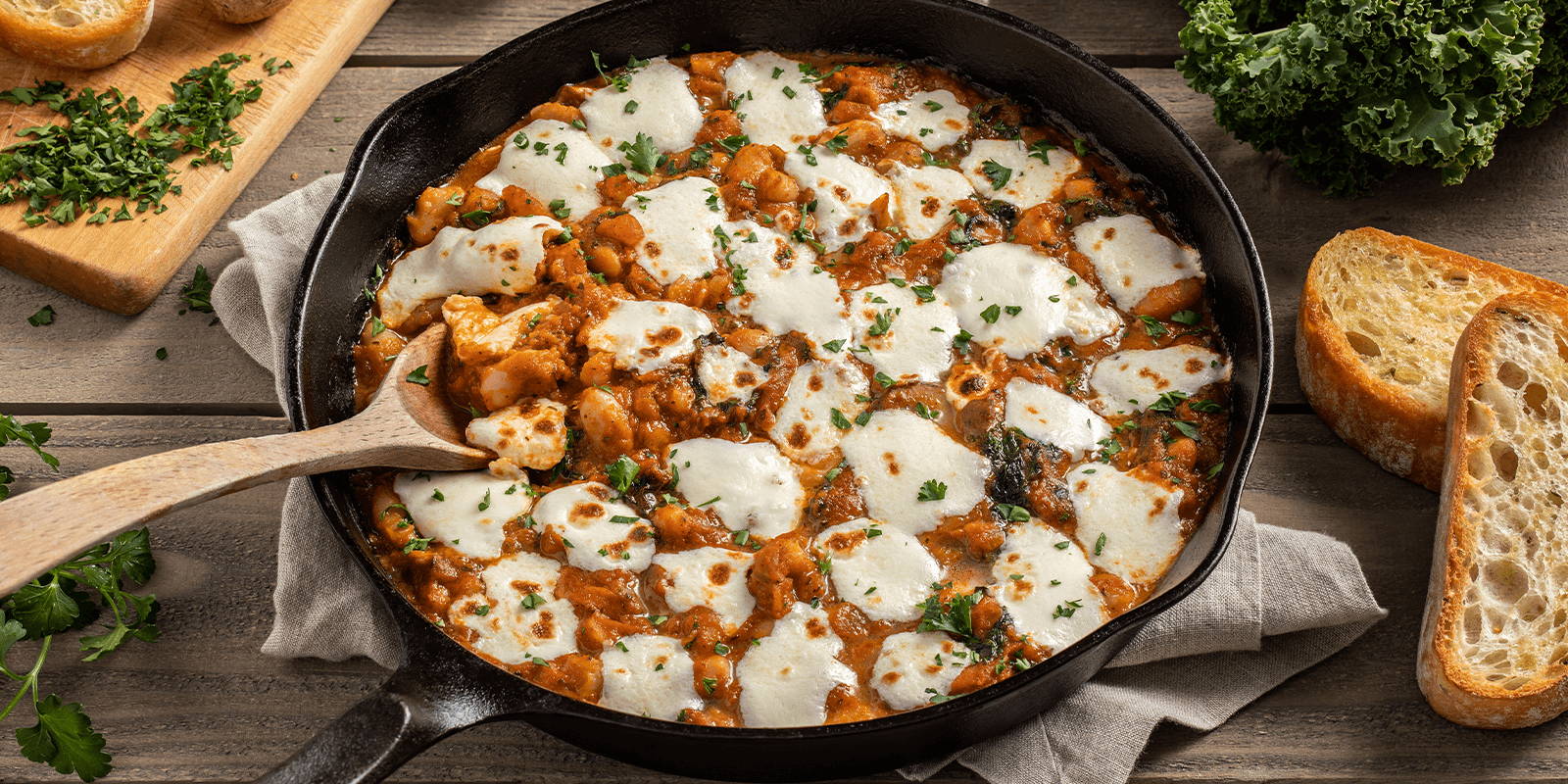 This one-skillet meal cuts down on dishes and complexity while packing in plenty of deliciousness. While kale might not be in the title of this recipe, it's the secret, antioxidant-packed star of the meal, adding even more fiber and structure to dainty cremini mushrooms, earthy cannellini beans, and fresh, melty mozzarella. Really don't want to do dishes? Cut out silverware entirely and scoop up the meal with crispy ciabatta.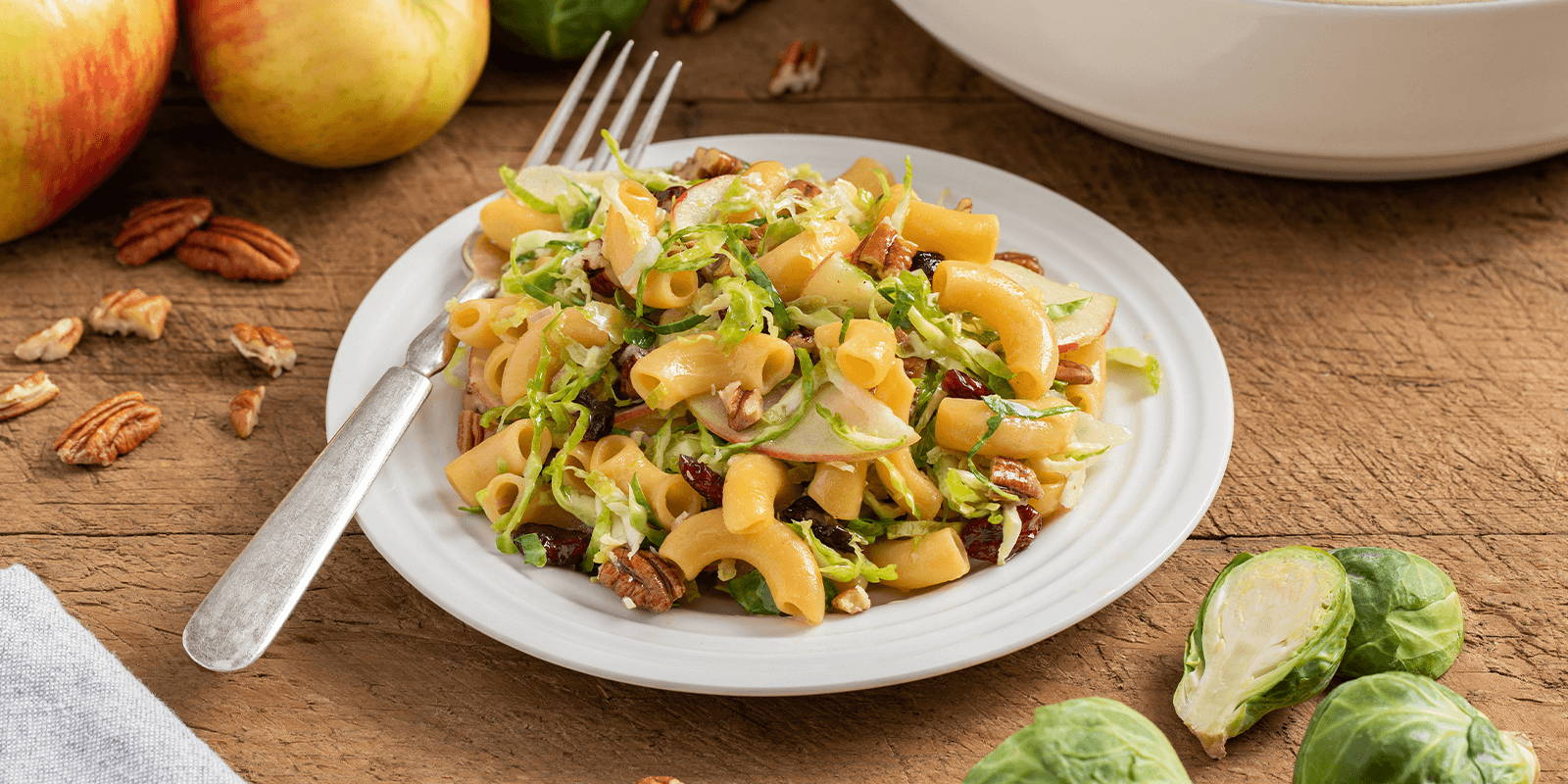 Sprouts are definitely having a moment right now, and we say keep the momentum going! Our take on SproutsMania is perfect for when you need a low-key meal on-the-fly. Raw, shredded Brussels sprouts keep their crunch when mixed with a homemade dressing flavored with shallots, maple syrup, and dijon mustard. Combine with ZENB Pasta and... voila! Your sprouts for the season.
Known for its colorful stems, swiss chard is a leafy green that is too often left out of the conversation. The trick to cooking this bright veggie is to cover and simmer until it's just wilted. It takes longer to wilt than, say, spinach, but this cooking process will ensure all the bitterness is taken out. Amp up the flavor with the slow-roasted Sweet Carrot and Tomato Marinara Pasta Sauce in this recipe, and you have a 30-minute meal that tastes like you've been braising all day.
What if we told you that getting in touch with your inner chef has never been easier? Warm your weeknights right up with this ultra-comforting recipe that's as fast as it is delicious. All you have to do is saute your prettiest bunch of seasonal kale with some cremini mushrooms and red pepper flakes. Top with a little (or a lot of) parmesan, and ta da! A simple, delicious dinner you'll want to make over and over again.
Turn any chilly evening into a warm night in with the right know-how, recipes, and ingredients to celebrate the season! Whether you're perusing the farmer's markets or are a savvy supermarket shopper, remember the perfect pairing to your favorite seasonal selections is always ZENB Pasta. ✨
Hungry for more? Check out our recipe library with 100+ dishes to satisfy every craving. Follow us @zenb_life Facebook and Instagram to stay in the know on the latest tips, tricks, and fun facts you need to live a more veggie-filled, balanced life.
---