PLANT-FUELED, GOURMET FLAVORS
At ZENB, our food offerings bring out as much flavor as possible from their plant sources. We are providing a new understanding of what plants can do.
The ZENB Pasta & Gou Starter Pack provides the essential elements to make any meal-time special.
Choose 1 Pasta & 1 Sauce $10.99

Eating ZENB Pasta gives you...
When eaten as part of a balanced diet, protein-rich foods have been shown to help build and support strong muscles and help build and repair body tissues.
An Excellent Source
of Fiber
Fiber has been shown to help support staying regular while serving as an important component of a nutrient-dense diet.
A Gluten-Free Alternative
Made from a single ingredient, yellow peas, and nothing else — ZENB Pasta is gluten-free and grain-free.
The glycemic index (GI) is a scale that ranks foods from 0 to 300 based on how much they raise blood sugar levels. ZENB Pasta has a low GI ranking of 36.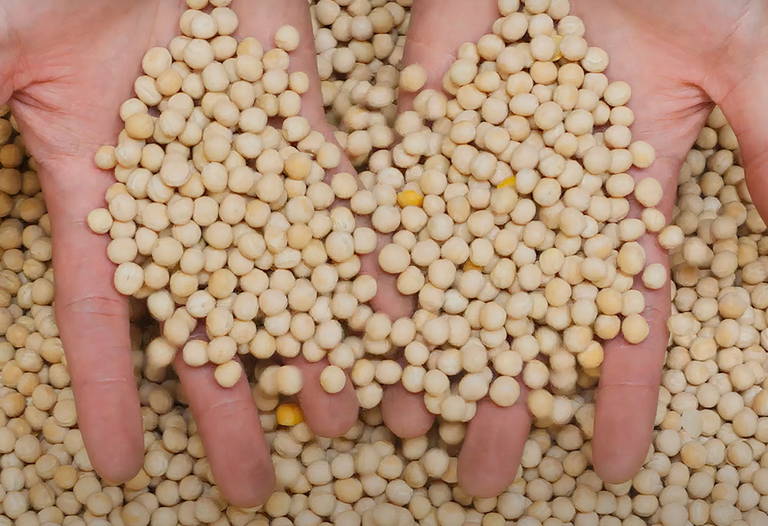 It's the single ingredient used to make ZENB Pasta.

Yellow peas come from the same family as green peas, but they dry to a golden yellow before they are harvested. They are milder than green peas with a nuttier taste. These legumes are nutrient-dense, providing rich sources of fiber, protein, minerals and vitamins.
Yellow peas are liked by farmers due to their ability to "feed" the soil they are harvested from; they give back nutrients like amino acids to the soil, delivering a more sustainable crop. Yellow Peas also require less water than grains like wheat, giving them a lower carbon footprint.
At ZENB we've discovered a way to get the most out of nature by using the WHOLE yellow pea, including the skin which is often discarded when harvested.
We're doing more than offering food that's good for our bodies and the environment — we're on a mission to develop crave-worthy offerings that encourage people to embrace a whole-plant approach.
Make it more than a single occasion with all our ZENB Pasta and Gourmet Sauce combinations.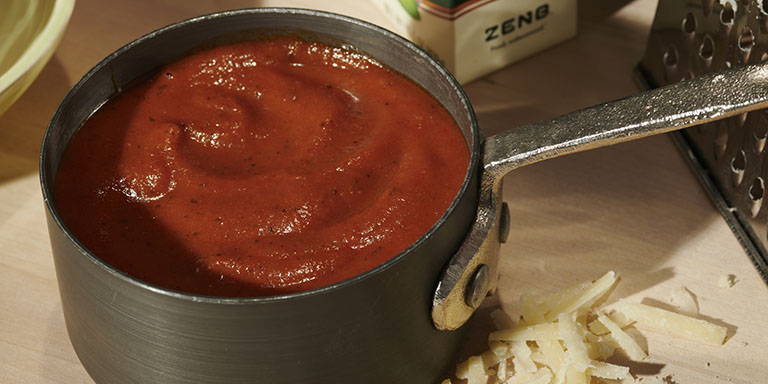 More than Just a Pasta Sauce
ZENB Gourmet Pasta Sauce pairs perfectly with ZENB Pasta — and it's also a flavorful addition to pizza, lasagna, baked chicken, Bloody Mary's, and more!

The foundation of ZENB Gourmet Sauce is built on the classic culinary confit technique, combined with the plant-fueled nutrition of whole vegetables — including the seeds, stems and skin — and blended together with herbs and spices to achieve a rich depth of flavor, natural sweetness, and umami.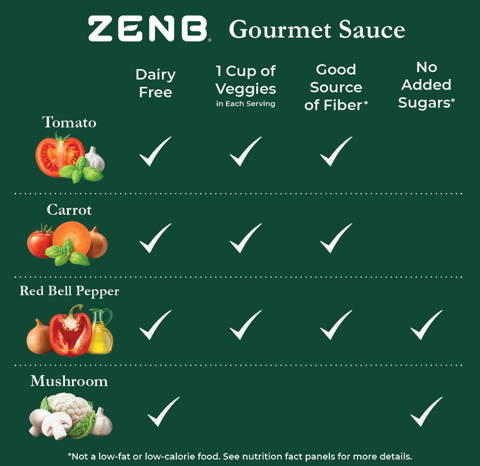 NEW! Creamy Mushroom, Cauliflower, & Garlic
Our non-dairy, all dreamy cream sauce combines whole mushrooms, including their stems, with a blend of cauliflower and garlic to deliver a silky sauce perfect as a plant-fueled topping for a wide range of dishes.
NEW! ROASTED RED BELL PEPPER, SAUTEED ONION, & OLIVE OIL
Inspired by the simple, fresh flavors of Tuscany, our sauce combines roasted red bell peppers (with stems and seeds), with sautéed onions, almonds, and olive oil for a robust sauce perfect for pasta or anything grilled.
Roasted Tomato, Garlic, & Basil
The smoky taste of plump, fire-roasted tomatoes, including the skin and seeds, with notes of garlic and basil, elevate this classic tomato sauce flavor from simple to elegant.
Sweet Carrot & Tomato Marinara
Our updated take on the classic marinara flavor you know starts with whole carrots, including their skin, and plenty of delicious, ripe tomatoes, onions, and basil, for a sauce bursting with veggie flavor.
Discover all the ways our pasta and sauces can be used.