Vegan Labor Day Salad, Burger, and Skewer Bites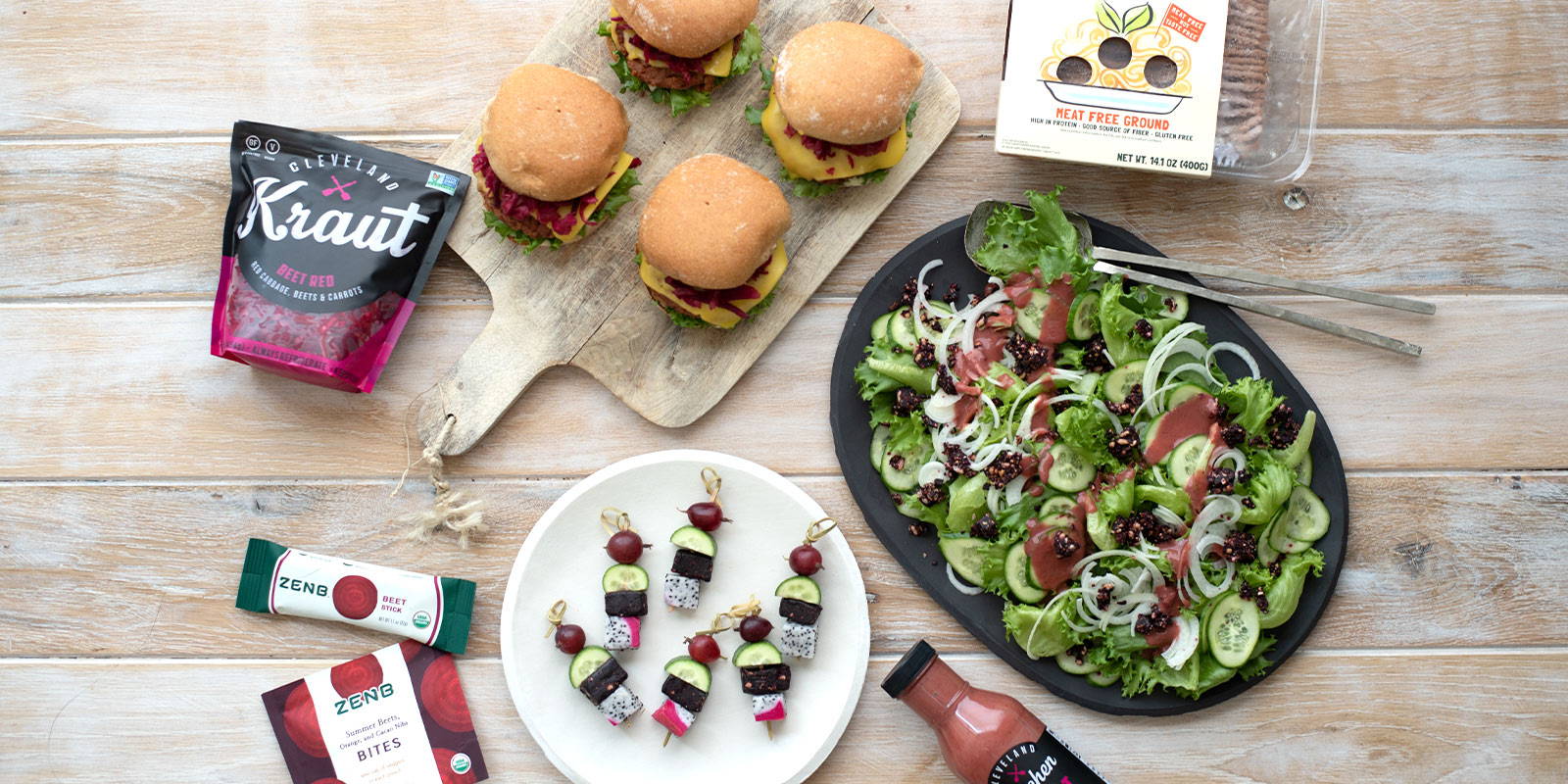 The long Labor Day weekend is right around the corner. It symbolizes the unofficial end of summer and the last chance to enjoy the warm weather, some cold drinks, and good times over a relaxing few days with friends and family.
Oh, and don't forget the great food!
From picnics to backyard BBQs, Labor Day calls for great cookout dishes everyone can enjoy. So, as you prep for a nice holiday weekend, why stop at just one recipe when you can easily whip up a few tasty, plant-based treats?
With these vegan recipes, we teamed up with a couple of our favorite like-minded brands — Meatless Farm and Cleveland Kitchen — to make a whole quick, easy, delicious meal, from appetizer to dessert, for your Labor Day spread.
Enjoy our summer salad, made in a snap, hearty meatless burgers, and deliciously refreshing skewer bites the kids are sure to love.
Appetizer: Summer Salad in a Snap
Prep Time: 15 minutes
Serves: 6
Summer Salad Ingredients
3  cups mixed salad greens
2  small cucumbers, sliced
1  small sweet onion, sliced
1  ZENB Stick in flavor of choice
2  tablespoons Cleveland Kraut Sweet Beet Salad Dressing
Summer Salad Instructions
1.  Layer greens onto a serving plate and top with cucumbers and onion.
2.  Crumble ZENB Stick on top and pour dressing or serve on the side.
3.  That's it — a simple summer salad, made in a snap. Enjoy!
Try adding pickled onions to make it your own and bring more flavor to your salad.
Main Course: Meatless Burgers
Prep Time: 10 minutes
Cook Time: 10 minutes
Total Time: 20 minutes
Serves: 6
Meatless Burger Ingredients
1  package Meatless Farm Co. Meat Free Grounds
1  tablespoon cooking oil of choice (if pan frying)
6  slices vegan cheese
6  vegan burger buns
1  cup vegan mayonnaise
6  pieces lettuce
1  cup Cleveland Kraut Beet Red Sauerkraut
Meatless Burger Instructions
1.  Divide the meat-free grounds into 6 equal portions. Roll into patties.
2.  Grill or pan-fry with cooking oil over medium heat until browned then flip and repeat (about 10 minutes).
3.  Turn off the heat, layer the vegan cheese and cover the grill or pan until the cheese melts on top.
4.  Prepare the buns by spreading a thin layer of vegan mayonnaise.
5.  Assemble burgers, buns, lettuce, and evenly distribute sauerkraut over the burgers. Enjoy!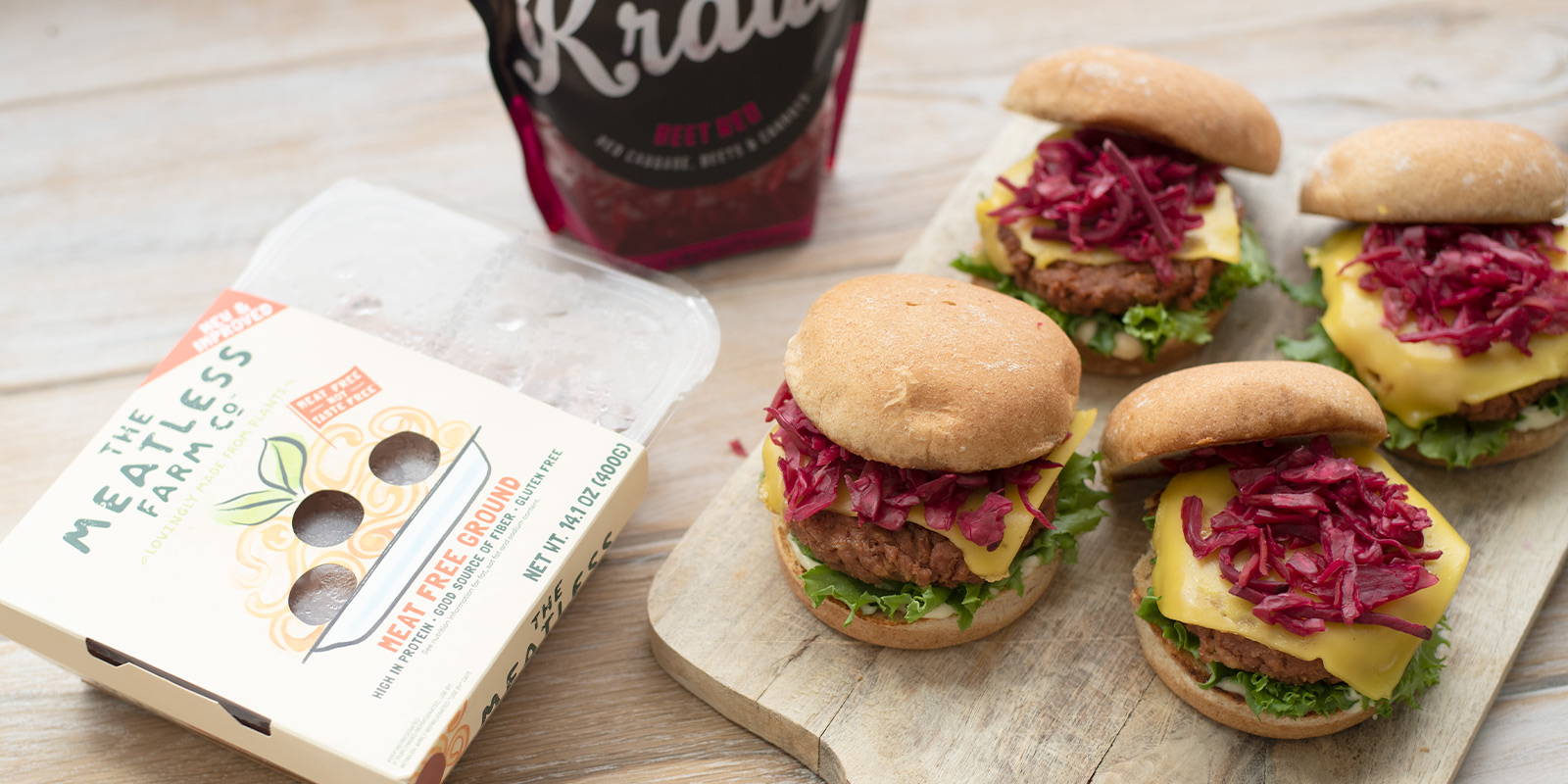 Special Treat: ZENB Skewer Bites
Prep Time: 15 minutes
Serves: 6
Skewer Bites Ingredients
1  dragonfruit, cubed
6  grapes
1  small cucumber, sliced
1  pouch ZENB Bites in flavor of choice
Skewer Bites Instructions
1.  Skewer one cube of dragonfruit, one grape, one cucumber slice, and one ZENB Bite per skewer.
2.  Repeat with the remaining skewers and enjoy!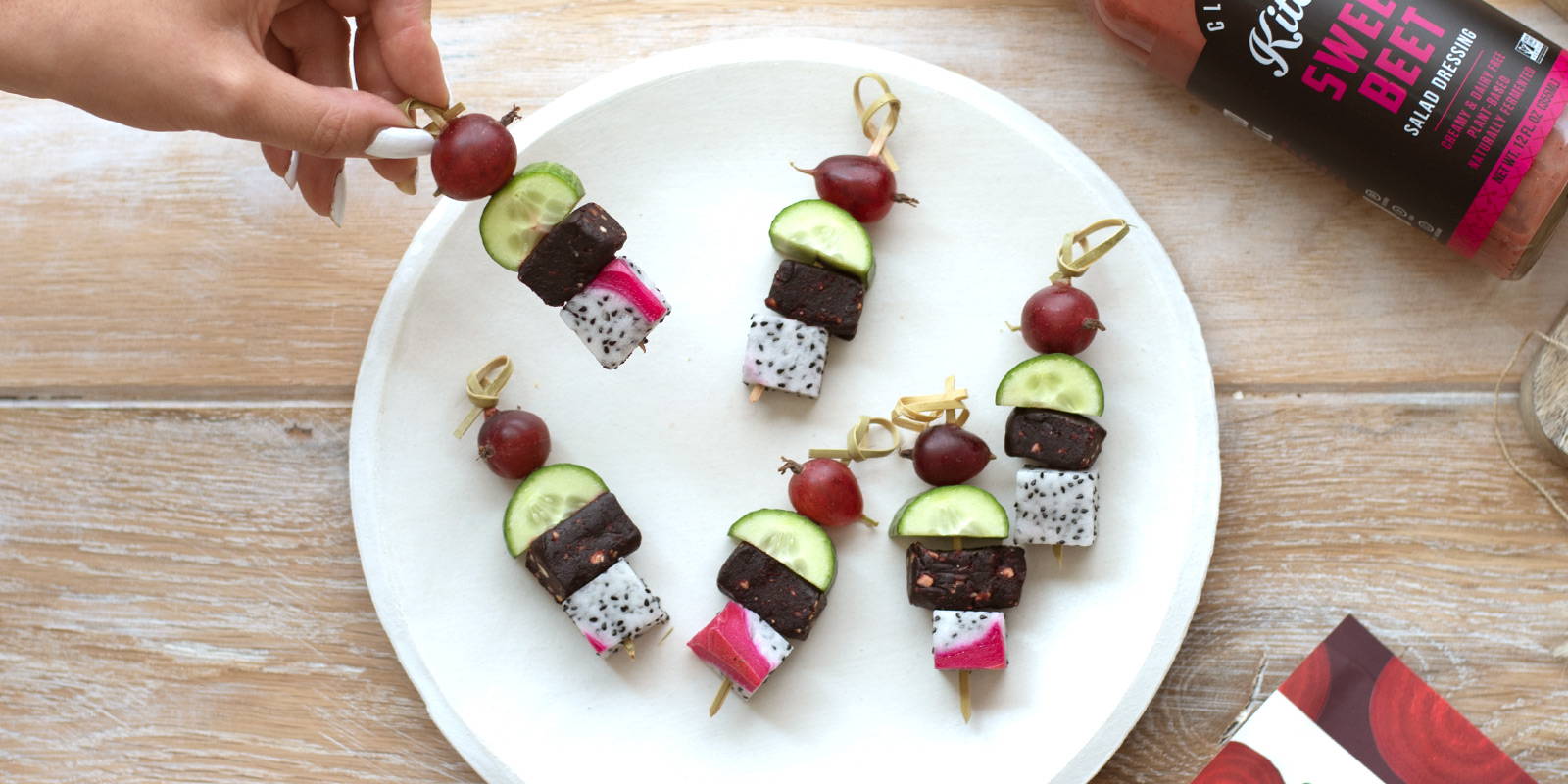 Add multiple flavors of ZENB Bites or additional fruit to liven up the flavor and add some refreshing twists.
Did you make these or any of our other recipes? Share on Instagram using #ZENBRecipes and tag @ZENB_Life. We'll repost our favorites with our Plant Pals.
Looking for more recipes for your Labor Day weekend? Try our Sweet Potato Veggie Sliders — perfect for grilling on these final summer evenings. 
---