Vegan Chocolate Chip Pancakes with Fresh Fruit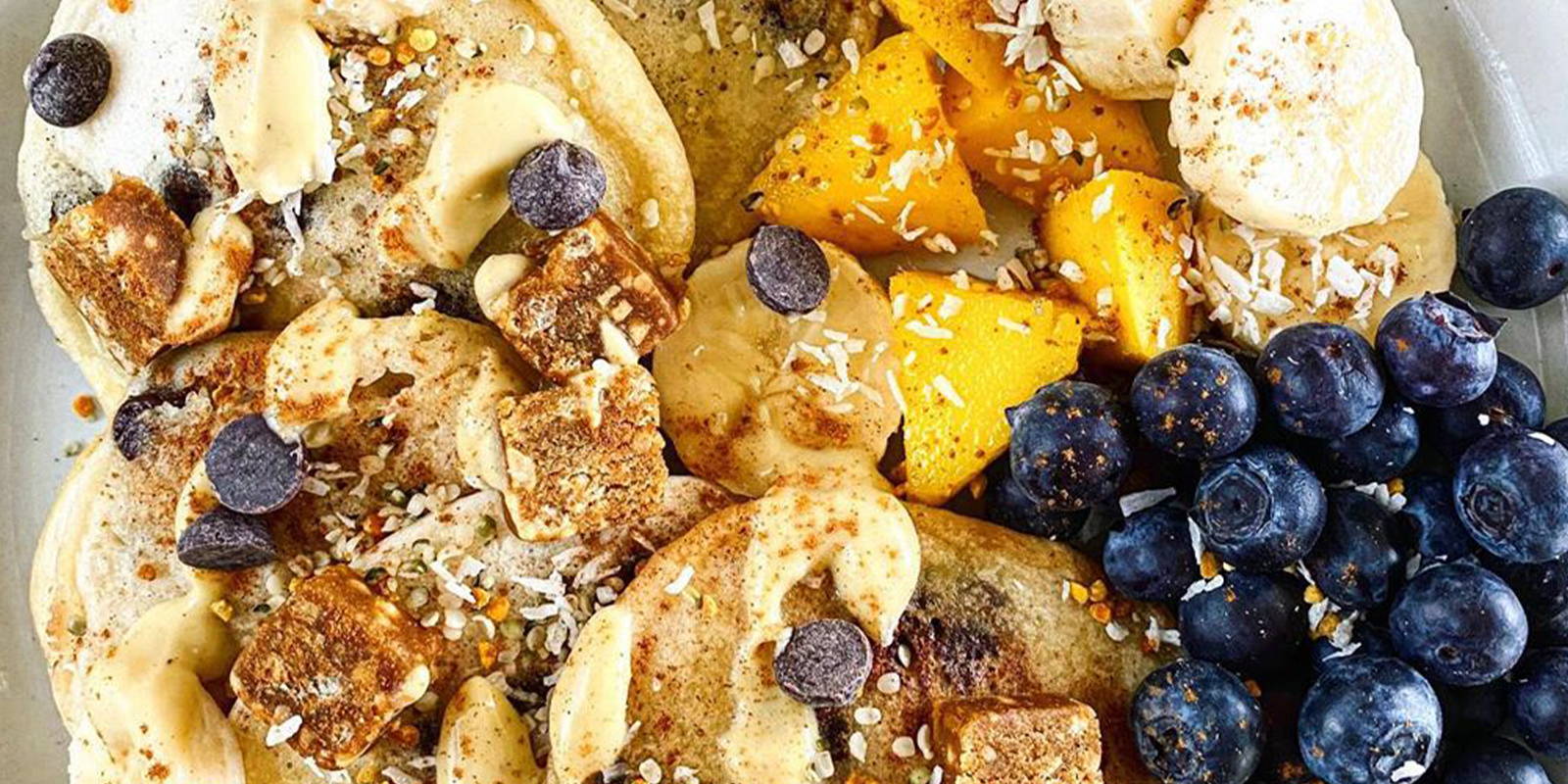 It's Saturday morning, the sun hasn't yet come up. Your family may still be sleeping, your dog or cat may be stretching on the kitchen floor, letting a large yawn. You could go back to bed, or for a run, or, hear us out, maybe…
MAKE PANCAKES.

Even better, vegan pancakes! This recipe is similar to traditional pancakes, but we've swapped out the eggs, milk, butter, and chocolate chips for their vegan counterparts (we promise, you won't even miss the dairy).

P.S. Our friend Winnie Liong (@winniesbalance_) made this delicious recipe, which you can check out on her Instagram page. And don't forget to give her a follow!

Vegan Chocolate Chip Pancakes with Fresh Fruit
SERVES: 4
1  cup non-dairy milk
1  tablespoon apple cider vinegar
1  teaspoon vanilla
1  cup flour
2  tablespoons organic sugar
1  tablespoon baking powder
1/2  teaspoon salt
1/4  cup melted vegan butter for batter
1  cup vegan chocolate chips
2-3  tablespoons vegan butter for skillet
Optional Toppings
Your favorite ZENB Veggie Bites - we recommend Sweet Potato Veggie Bites!
maple syrup
blueberries
banana, sliced
mango, cubed

1.  Make wet mixture: combine non-dairy milk, vinegar, and vanilla in small bowl and set aside.
2.  Make dry mixture: combine and stir flour, sugar, baking powder, and salt in a large bowl.

3.  Add melted vegan butter to wet mixture and whisk together.

4.  Pour the wet mixture into the dry mixture and whisk. 

Tasty Tip: Don't over-whisk the batter, or you'll end up with dense pancakes. Stir just until everything is mixed, lumps are welcome for fluffy pancakes.
5.  Let batter rest for 5 minutes to rise a bit — it helps with fluffiness!

6.  While batter rests, heat a skillet on medium heat.

7.  Add a tablespoon of butter to skillet, adjust the heat to prevent burning.
Tasty Tip: If the butter turns brown, it's burned, and you don't want that with the delicious pancakes you're about to have! If unsure, start on medium-low heat and turn it up if you notice your pancakes are taking a while to cook.

8.  Once the butter is melted, pour 1/4 to 1/2 cup of batter per pancake into the skillet.

Tasty Tip: We love using an ice cream scooper for easy measuring and clean up.

9.  Once the top of the pancake bubbles, that's your cue to flip them over!

10.  Cook for three minutes — or until they are golden brown — and remove from the skillet onto a plate.
Tasty Tip: We like to keep the pancakes warm by covering the plate with a large lid (wok lids are PERFECT) or keeping the plate in the oven at a super low temperature.
11.  If the skillet seems dry, add a half-tablespoon of the butter.
12.  Repeat the process. 
13.  Serve warm, sprinkle with chocolate chips, and enjoy!
14.  Optional: Top with maple syrup, your favorite fruits, and a sprinkle of ZENB Veggie Bites like Sweet Potato Veggie Bites!

Share your own fun recipes (or even how this one turned out!) with the ZENB community on Instagram, Facebook, and Twitter. Be sure to check back for fun new seasonal articles & ideas to help inspire a life well balanced.
You can try our Veggie Bites with 1 cup of veggies per pouch, including the Sweet Potato Veggie Bites, as well as our Veggie Sticks, for 50% off with our ZENB Sampler. Just pay $6.99 and get FREE shipping.

Already tried ZENB? Subscribe and get free shipping with every order! 

---