Springtime Quinoa Grain Bowl With ZENB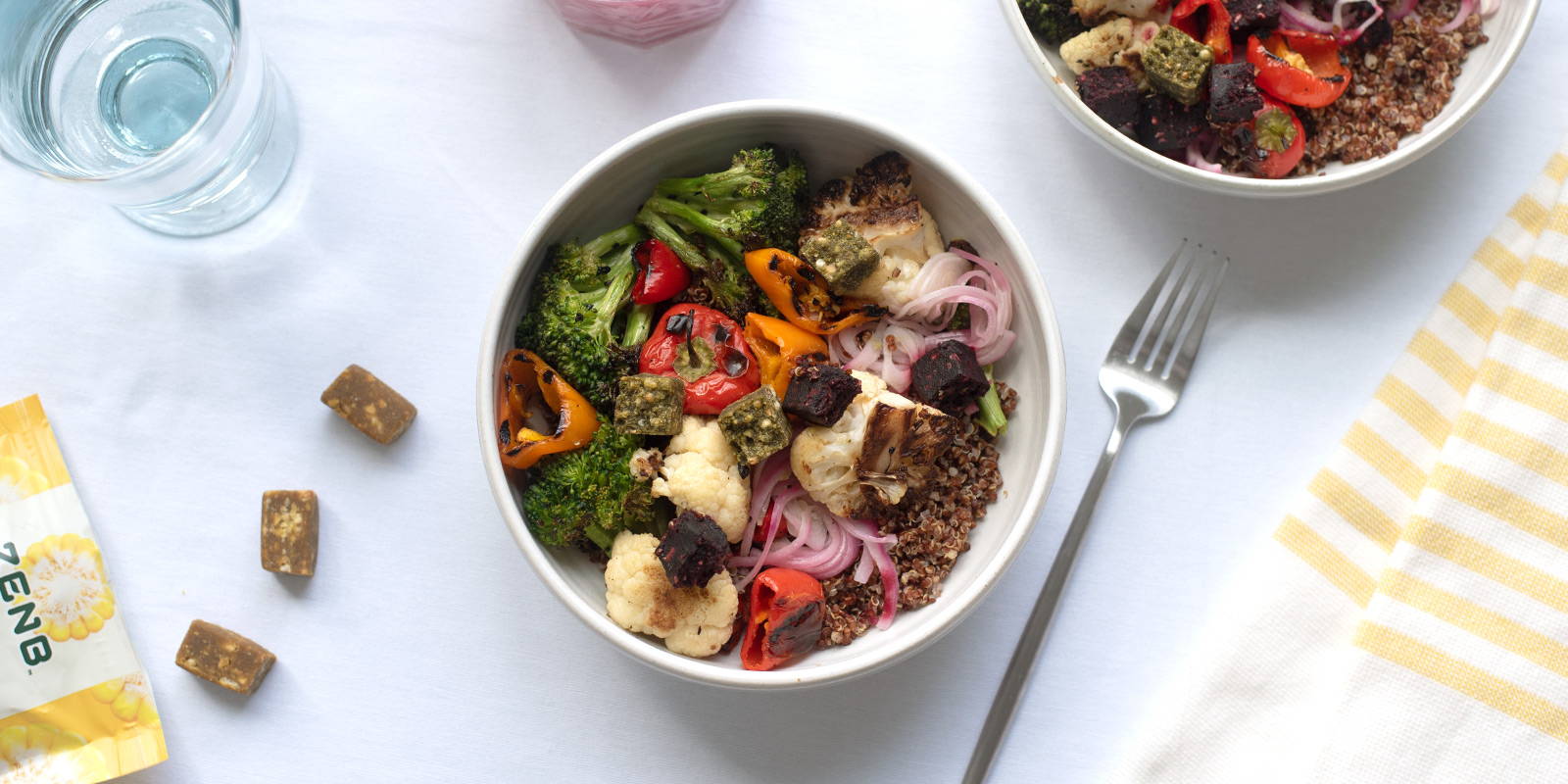 Create your bowl with a variety of delicious ingredients and flavors. They're perfect for quickly mixing nutritious ingredients together without a whole lot of hassle.

And, to celebrate the season, we have a fresh recipe for healthy spring eating!

Pair your veggies with quinoa to give your bowl a softly textured base. As you probably know, quinoa is naturally gluten-free, packs some plant-based protein, and contains all nine essential amino acids. Not too shabby!

So whether you're serving the family or meal planning a couple of simple meals while you work from home, here's a simple springtime grain bowl recipe you'll keep coming back to. Enjoy!

Springtime Grains Bowl With ZENB
Serves: 4
Prep Time: 45 minutes
Total Time: 3 hours
Pickled Red Onion Ingredients (Optional):

1  large red onion, thinly sliced

2-3  cups sweet rice vinegar

Grain Bowl Ingredients:
2  cups cooked quinoa
1  small Vidalia onion, chopped
1/2  cup broccoli, chopped
1/2  cup cauliflower, chopped
1/2  cup small sweet peppers, chopped
1  tablespoon avocado oil
1  teaspoon toasted sesame oil
1/4  cup alfalfa sprouts
4  pouches ZENB Veggie Bites, any flavor(s)
Salt and pepper
4  tablespoons pickled red onions (Optional) 

Pickled Red Onions (Optional)
Pickled red onions add a nice mild yet salty sweet flavor but take some time to prepare. That's why it's an optional ingredient for your grain bowl, but we definitely recommend it as something to take your grain bowl to the next level.

1.  Transfer red onion to a medium-sized glass jar with lid.

2.  Pour the rice vinegar over the onions until completely covered then place the lid on top.
3.  Place in the fridge to pickle for at least 3 hours or overnight.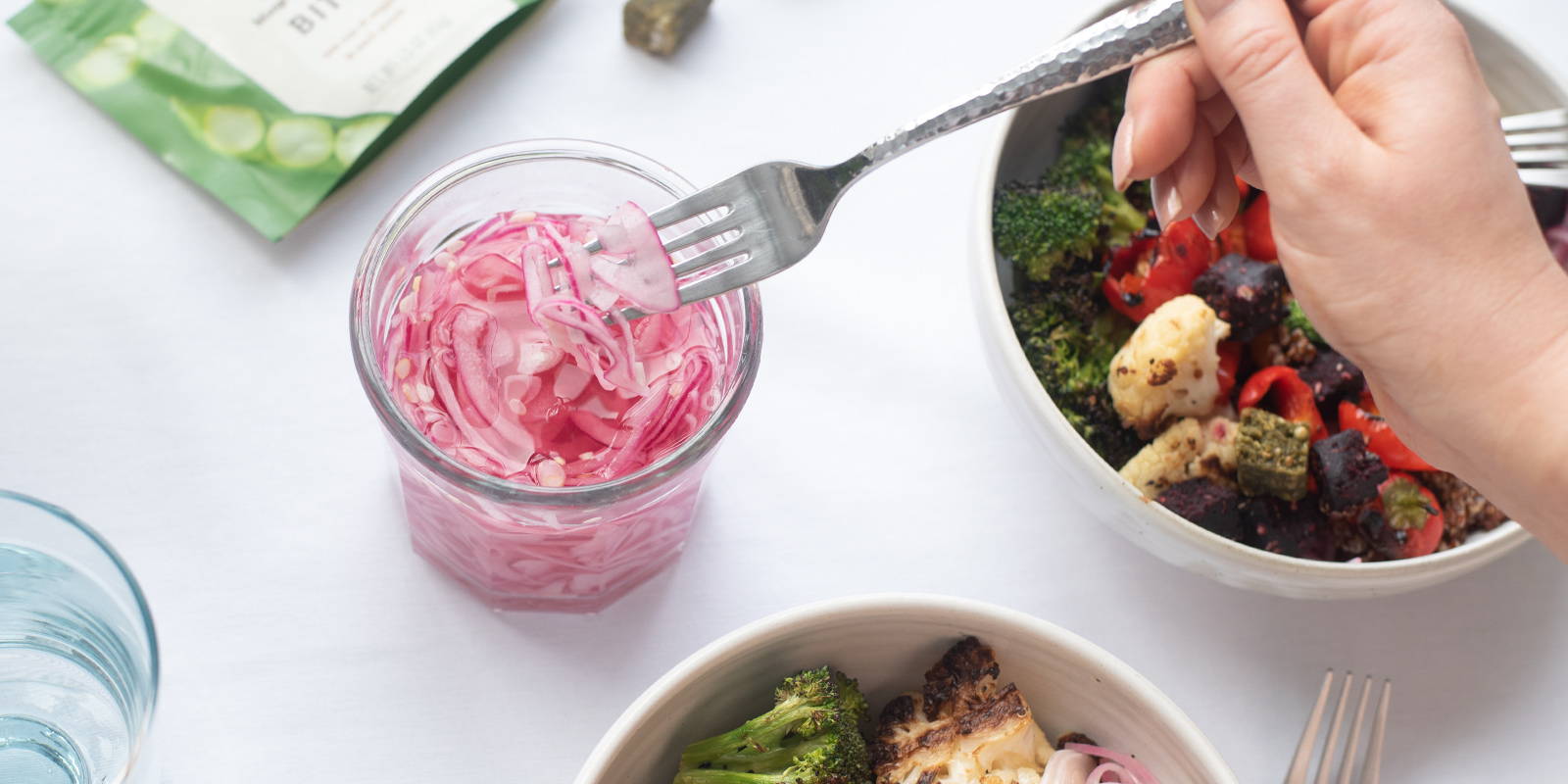 Grain Bowl
1.  Preheat oven to 425°F.
2.  Line a large baking sheet with parchment paper.
3.  Transfer chopped ingredients to the baking sheet.
4.  Drizzle with avocado oil, toasted sesame oil, salt and pepper.
5.  Gently mix until all the vegetables are evenly coated.
6.  Bake for 20-30 minutes or until thoroughly cooked and beginning to brown.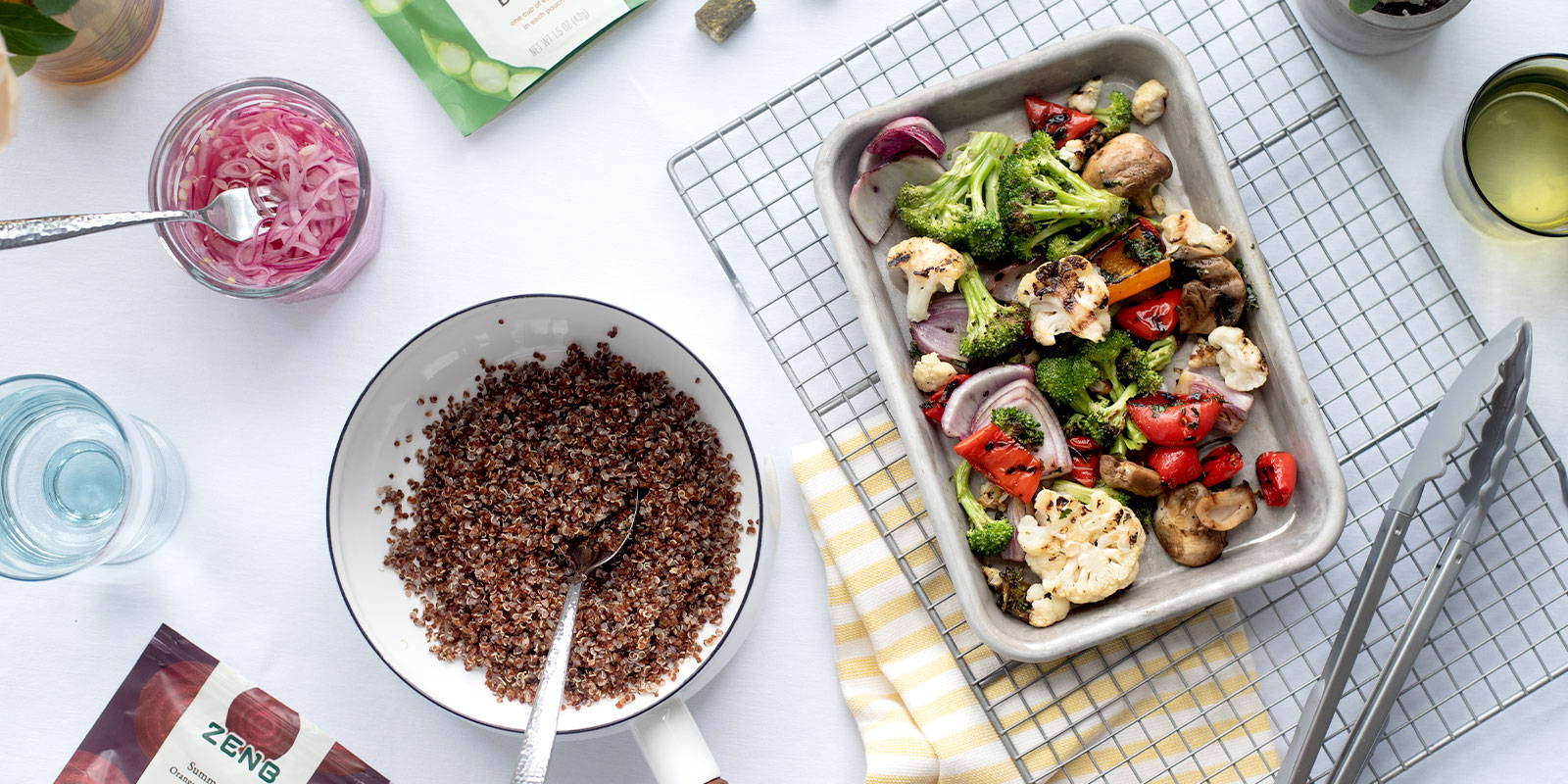 7.  Place 1/2 cup of quinoa in each bowl.
8.  Layer the baked veggies and top with 1 tablespoon of pickled red onions.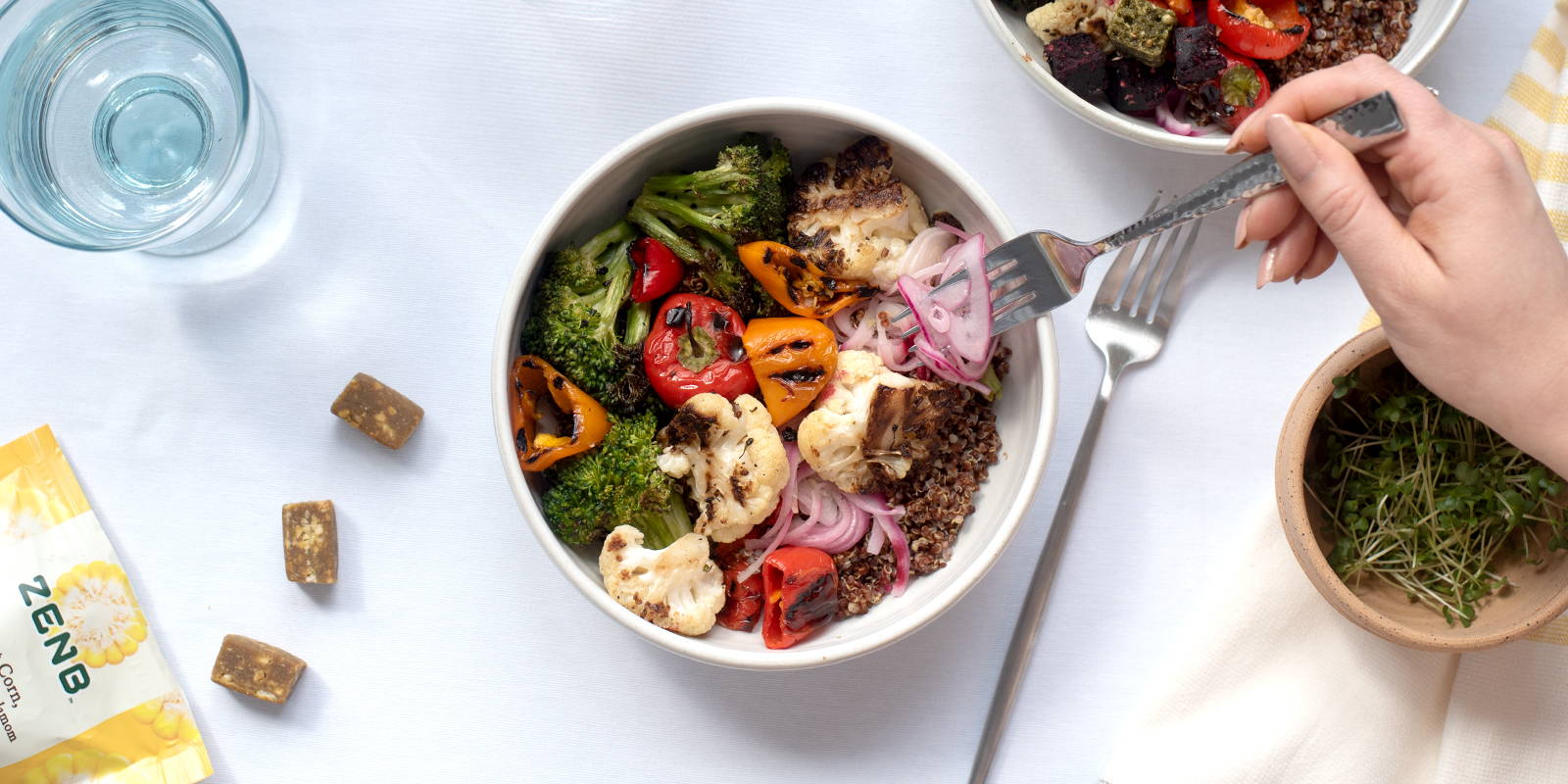 9.  Garnish with alfalfa sprouts.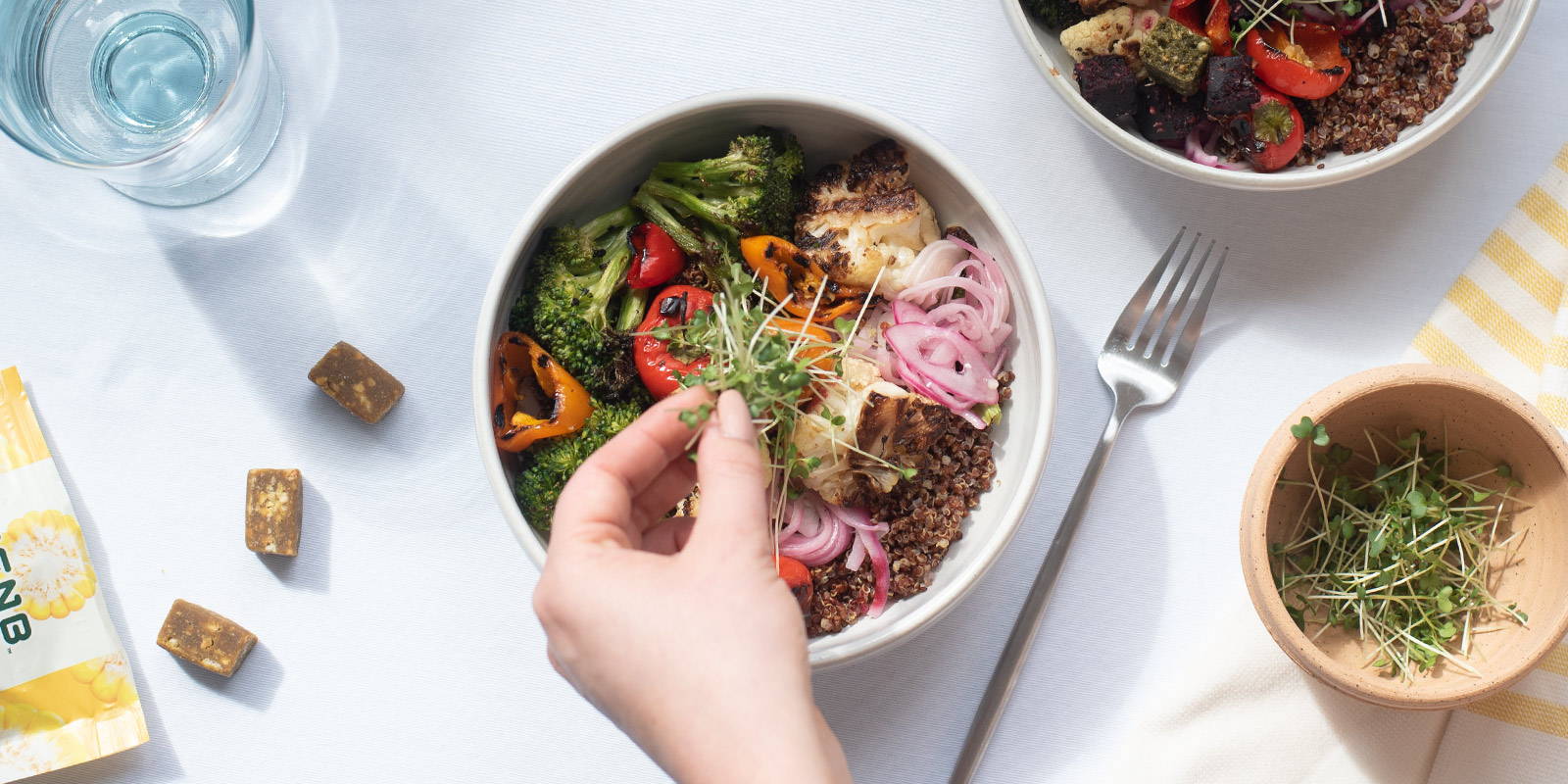 10.  Top with ZENB Veggie Bites. Break them up to add texture or keep them whole for more veggie kick.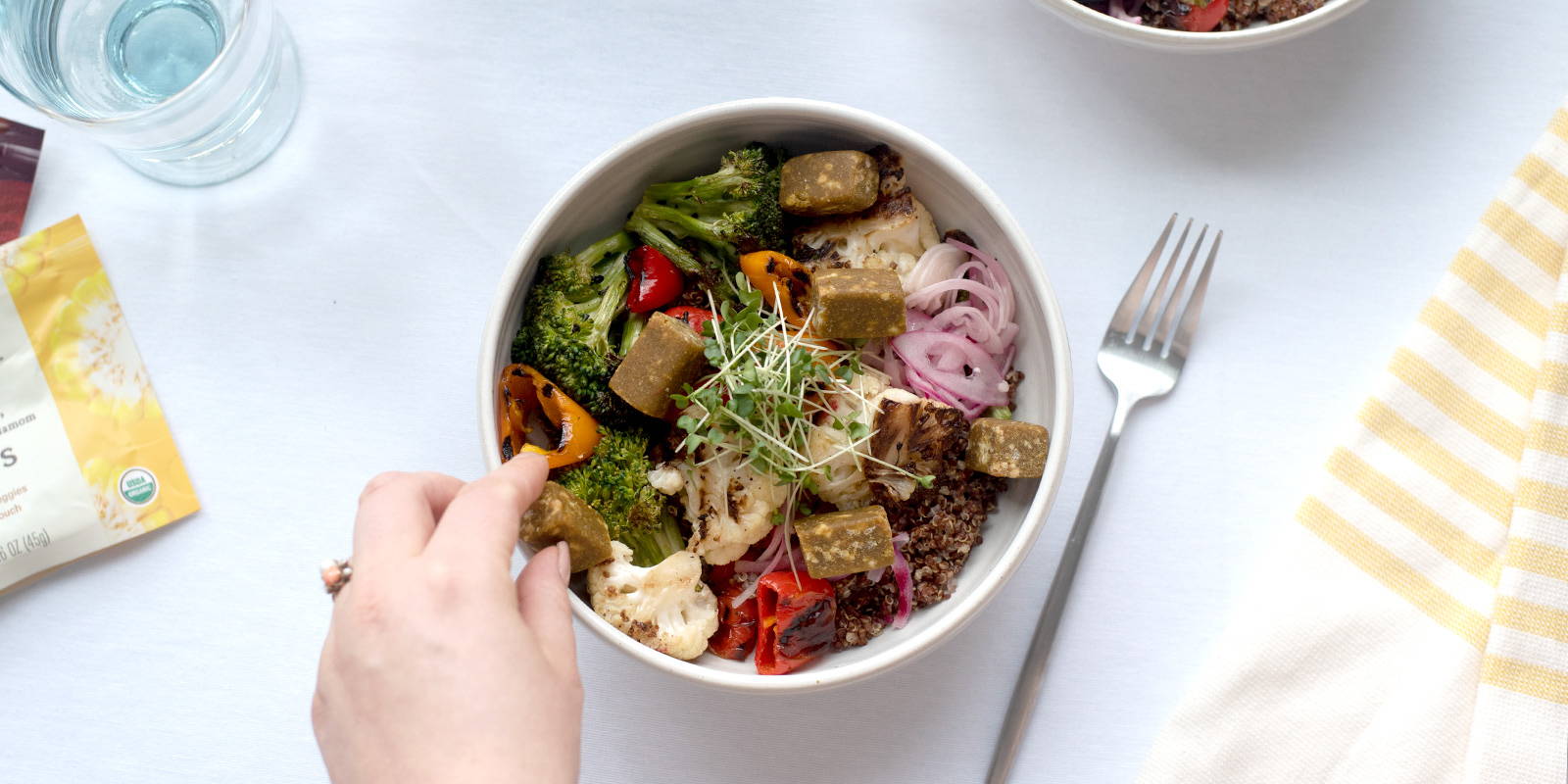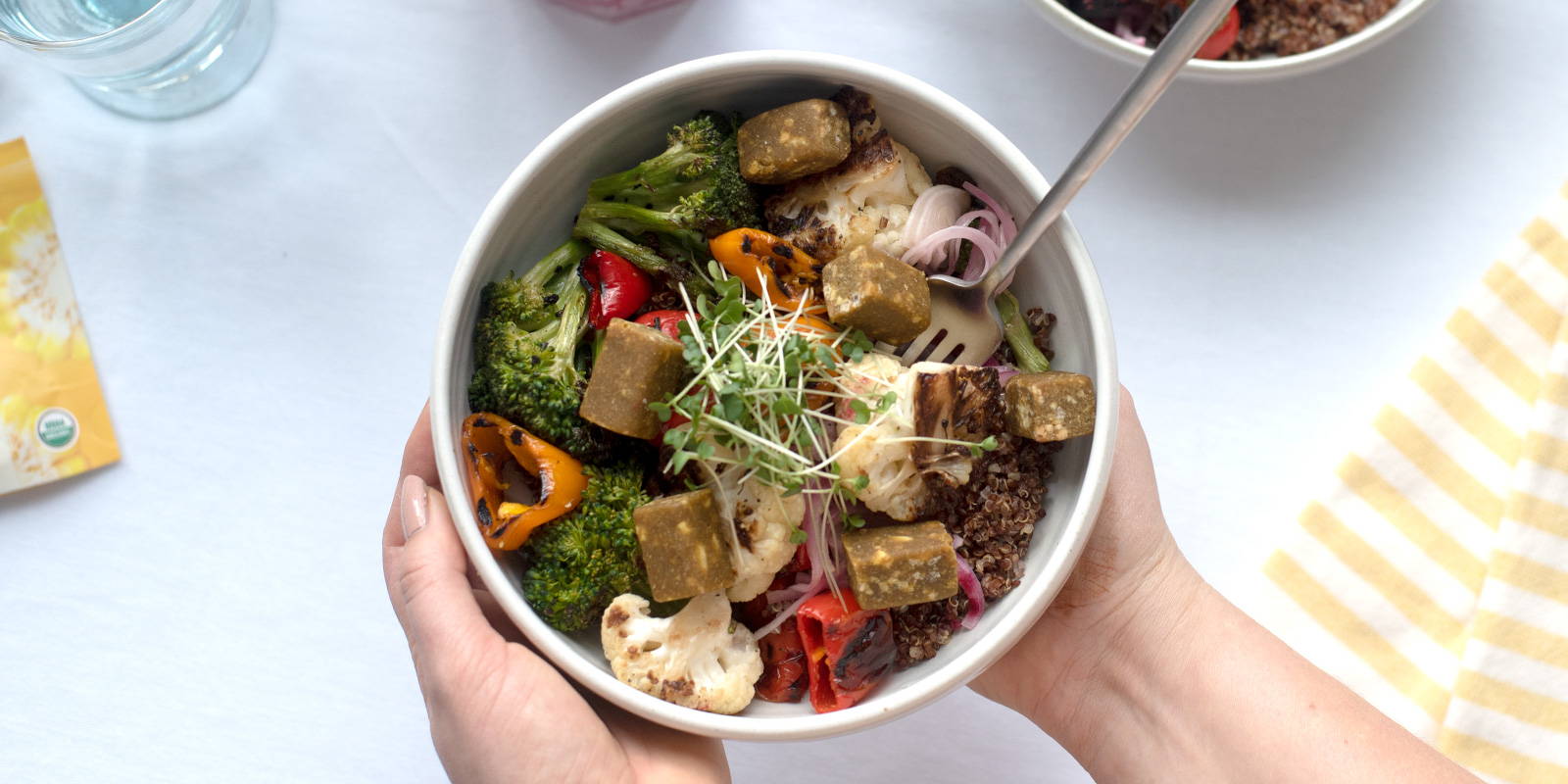 To make this Grain Bowl your own substitute ingredients with your favorite veggies or grains. And if grains aren't your thing, substitute them with some tasty cauliflower rice.

Want to make this recipe for yourself? Share with us on social! Just snap a pic of your delicious dish, use #ZENBRecipes and tag us on Instagram @ZENB_Life and we'll share your grain bowl creation with others. That goes for any of our plant-based recipes that you love. We want to share all the veggie love.
---