Grilled Cauliflower Steaks With Asparagus & Harissa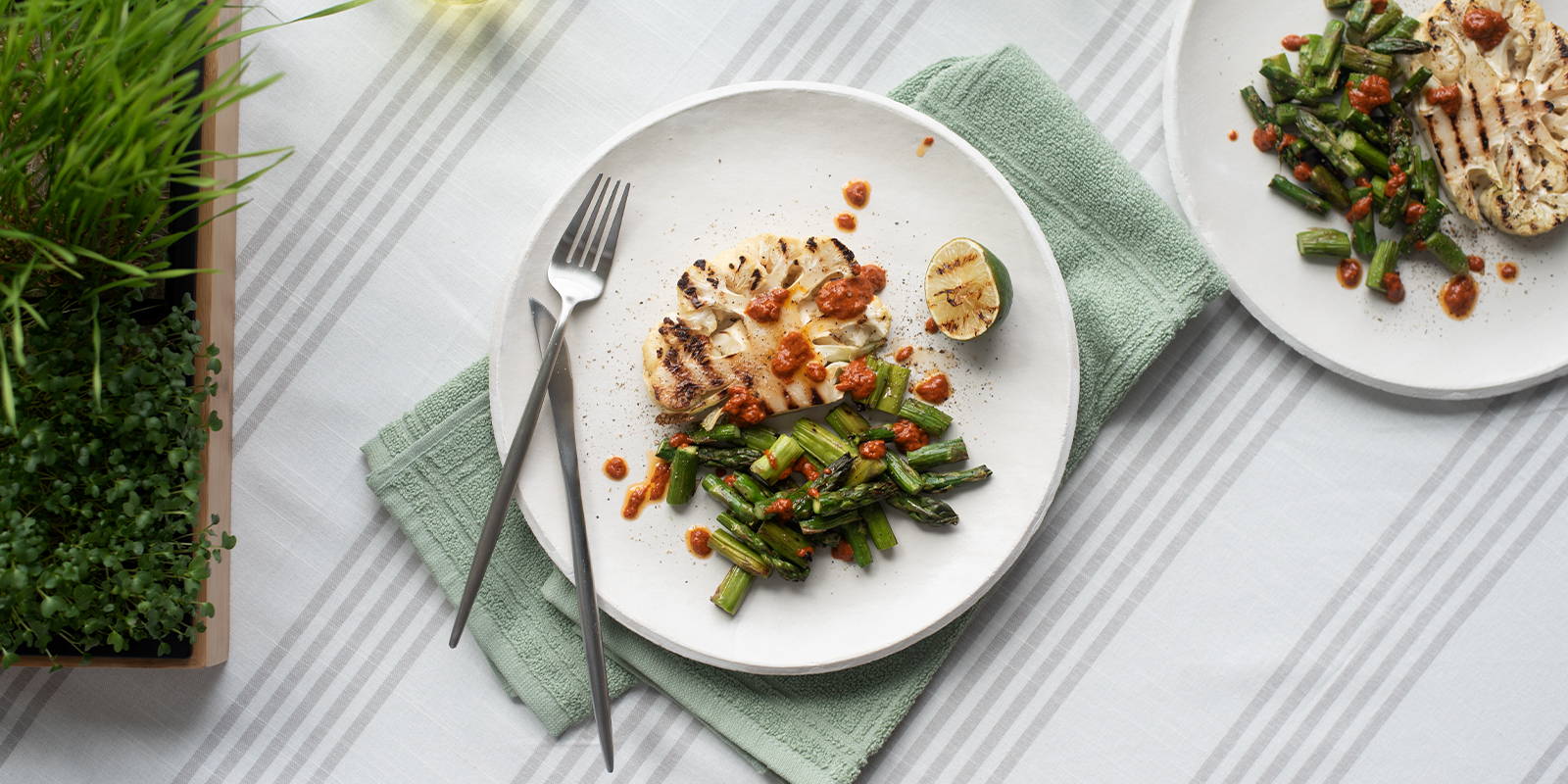 From pizza to rice, you've probably seen cauliflower popping up as a foundational ingredient to put a delicious vegan spin on popular recipes. And this one is no different! Cauliflower is made tender and a bit sweet by the heat of the grill. Add in that smoky outdoor flavor with a hint of Harissa spice and pair with a side of asparagus to create an ideal summer dish. So what are you waiting for? Grill up some veggie goodness today.


Grilled Cauliflower Steaks with Asparagus & Harissa 
Serves: 4
Prep TIme: 20 minutes
Cook Time: 30 minutes
Total Time: 50 minutes

Ingredients
1  large head of cauliflower

2  pounds asparagus, ends trimmed

3  tablespoons avocado oil

2  large limes, halved

Salt and pepper

1/4 cup harissa sauce
1.  Preheat the grill.


2.  Remove the leaves from the cauliflower head and carefully slice it into 1 inch thick "steaks."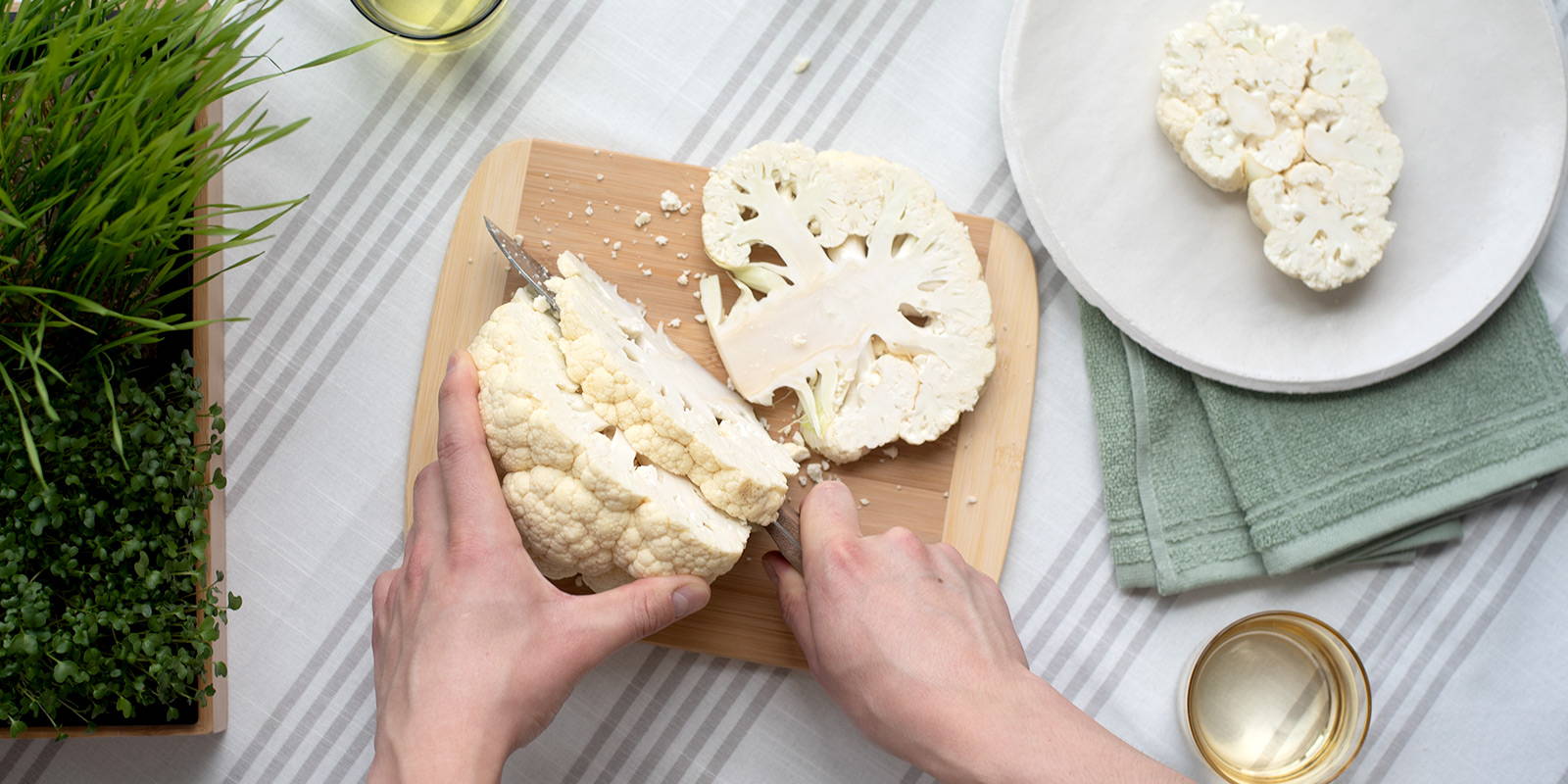 3. Brush the cauliflower and asparagus evenly with avocado oil. Season with salt and pepper.


4. Grill cauliflower, asparagus, and lime halves over medium heat until golden brown.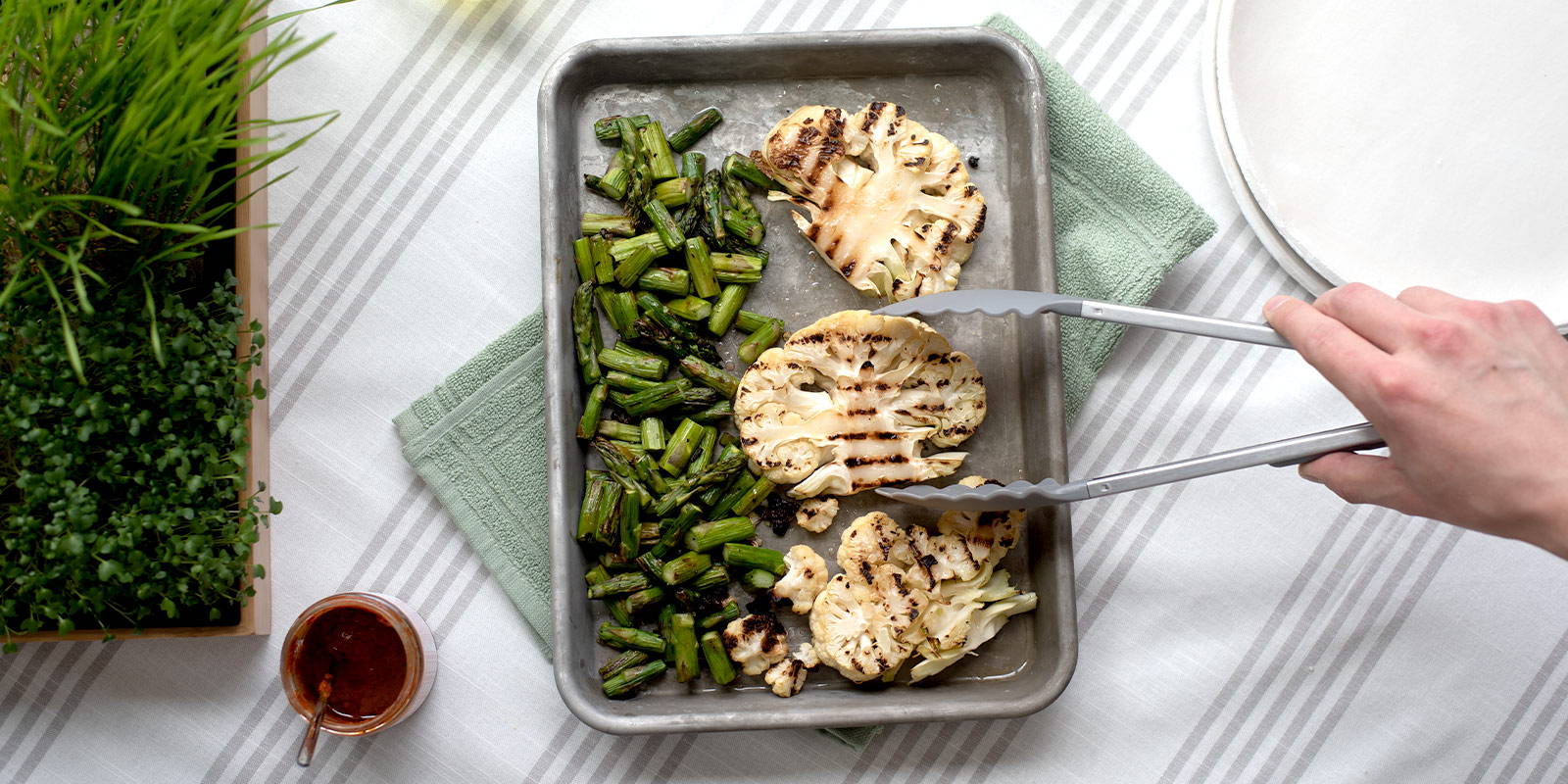 5. Cut grilled asparagus into 1-2 inch pieces.


6. Transfer the asparagus to serving plates and place cauliflower steaks alongside. Drizzle with harissa sauce.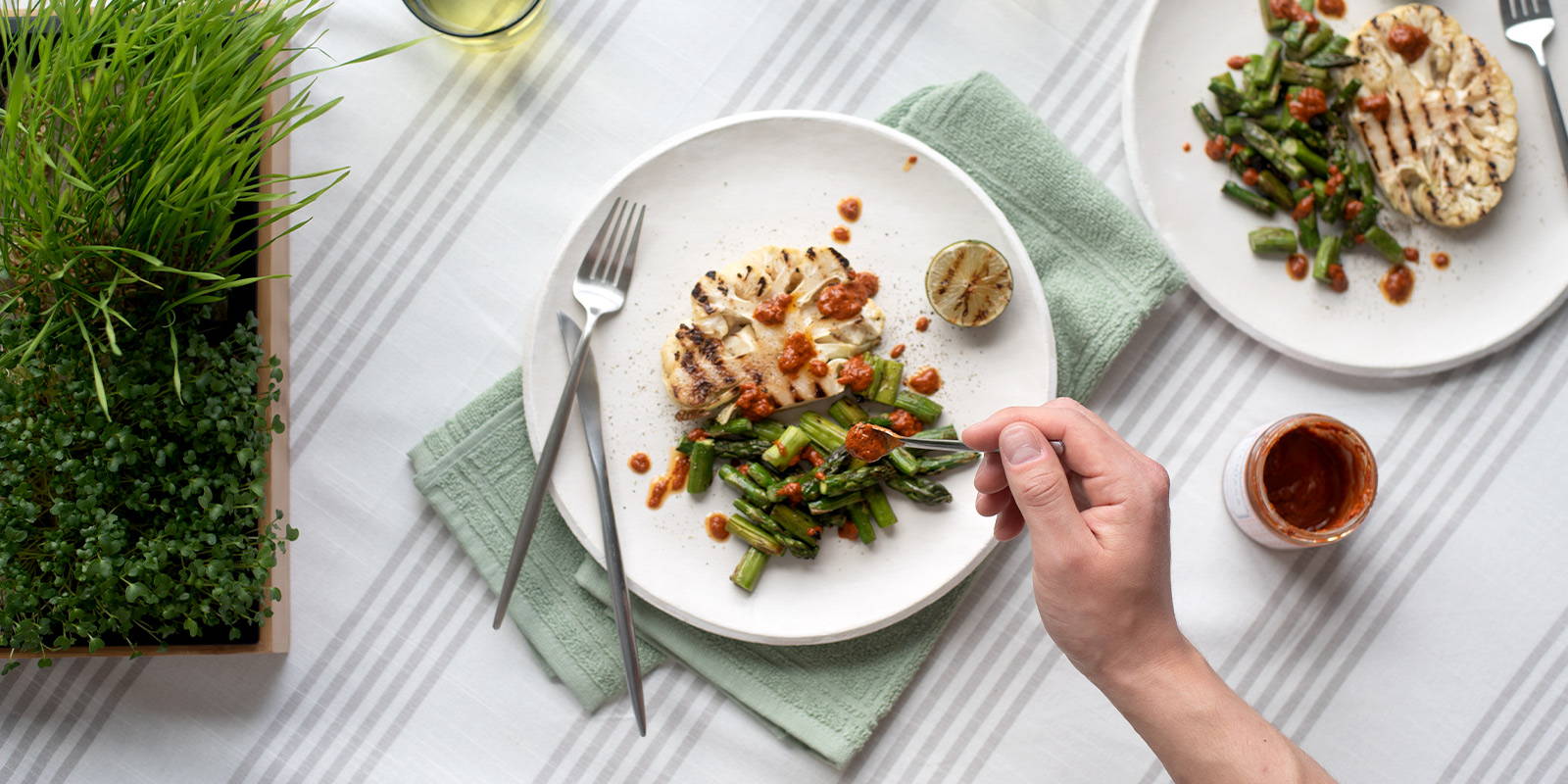 7. Squeeze the grilled lime juice on top. Finish with freshly cracked black pepper and enjoy!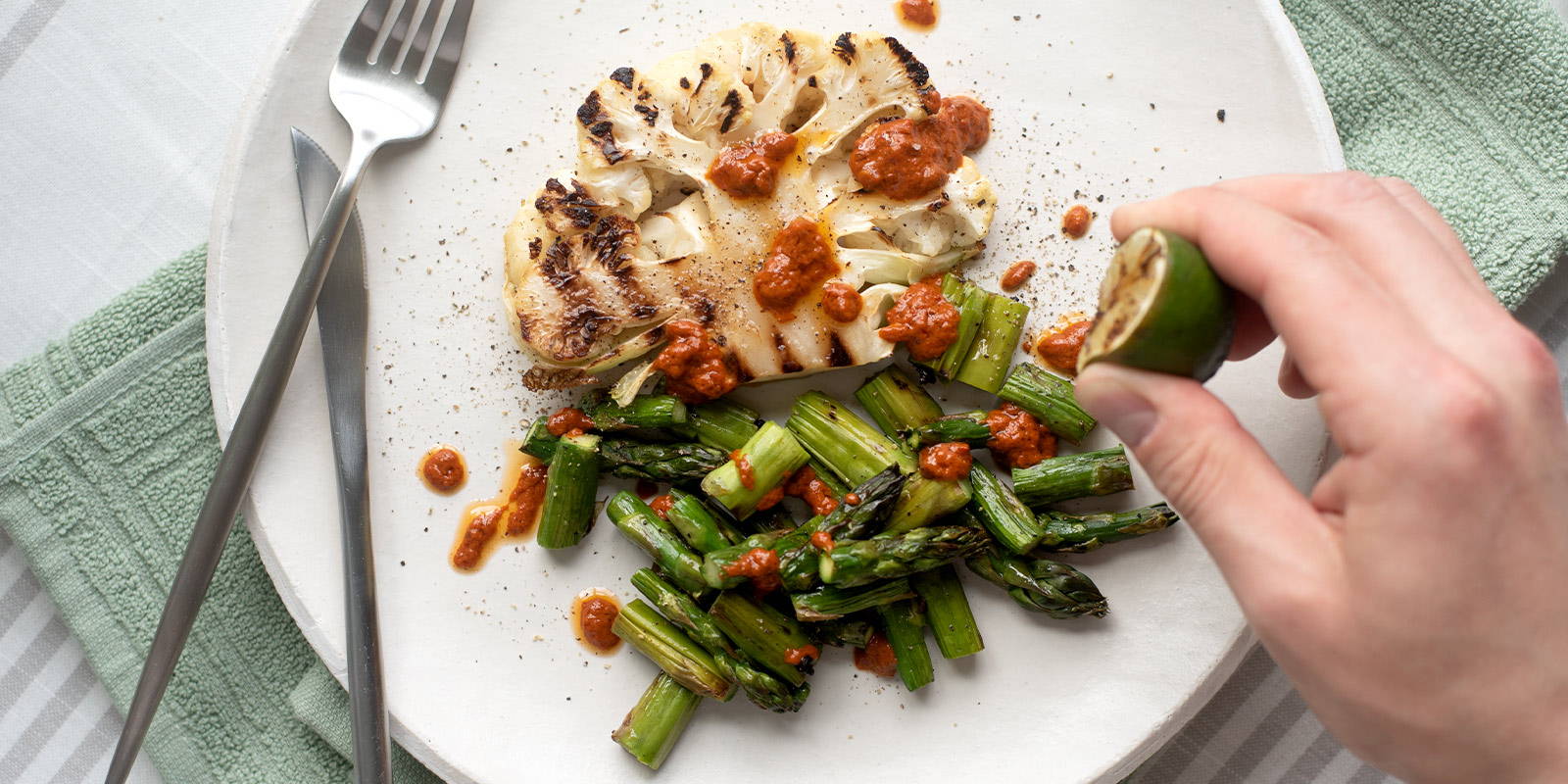 Harissa is a Tunisian red chile pepper paste seasoned with rose petals, coriander, and caraway seeds. It comes mild or spicy and is often sold in a tube or jar in the condiment aisle of the grocery store.



Did you recreate this recipe? We'd love to share it with our community! Take a pic of your culinary creation, use #ZENBRecipes, and tag us on Instagram @ZENB_Life. We'll share your grilled cauliflower with our other fans. And that goes for any of our tasty plant-based recipes that you cook up, we want to share all the veggie love.
 
---