Friendsgiving Recipe: Stuffed Acorn Squash with ZENB Veggie Sticks
If you've ever been to a Friendsgiving celebration, then you know the scene: You and your friends surrounding fantastic food and delicious drinks, sharing laughs, stories, and recounting fond memories.
It's special, unique — a genuine, wholesome celebration that brings the best out of every friend, old and new.
Simply put, Friendsgiving is the type of thing you wish you could do more often. And that's exactly why it's so important to make the most of it while you can.
Beyond enjoying your friends' company, this consists of testing your creative culinary skills with fun and fresh dishes that don't merely please the crowd, but absolutely wow them. And with this Stuffed Acorn Squash with ZENB Veggie Sticks recipe, you'll be able to do just that, all while letting your friends savor the very best of fall flavors (and, of course, give them a veggie-first boost during their Friendsgiving meal).
Check out the recipe below, and make sure to snap a picture and tag @ZENB_Life in any photos you take of your final dish!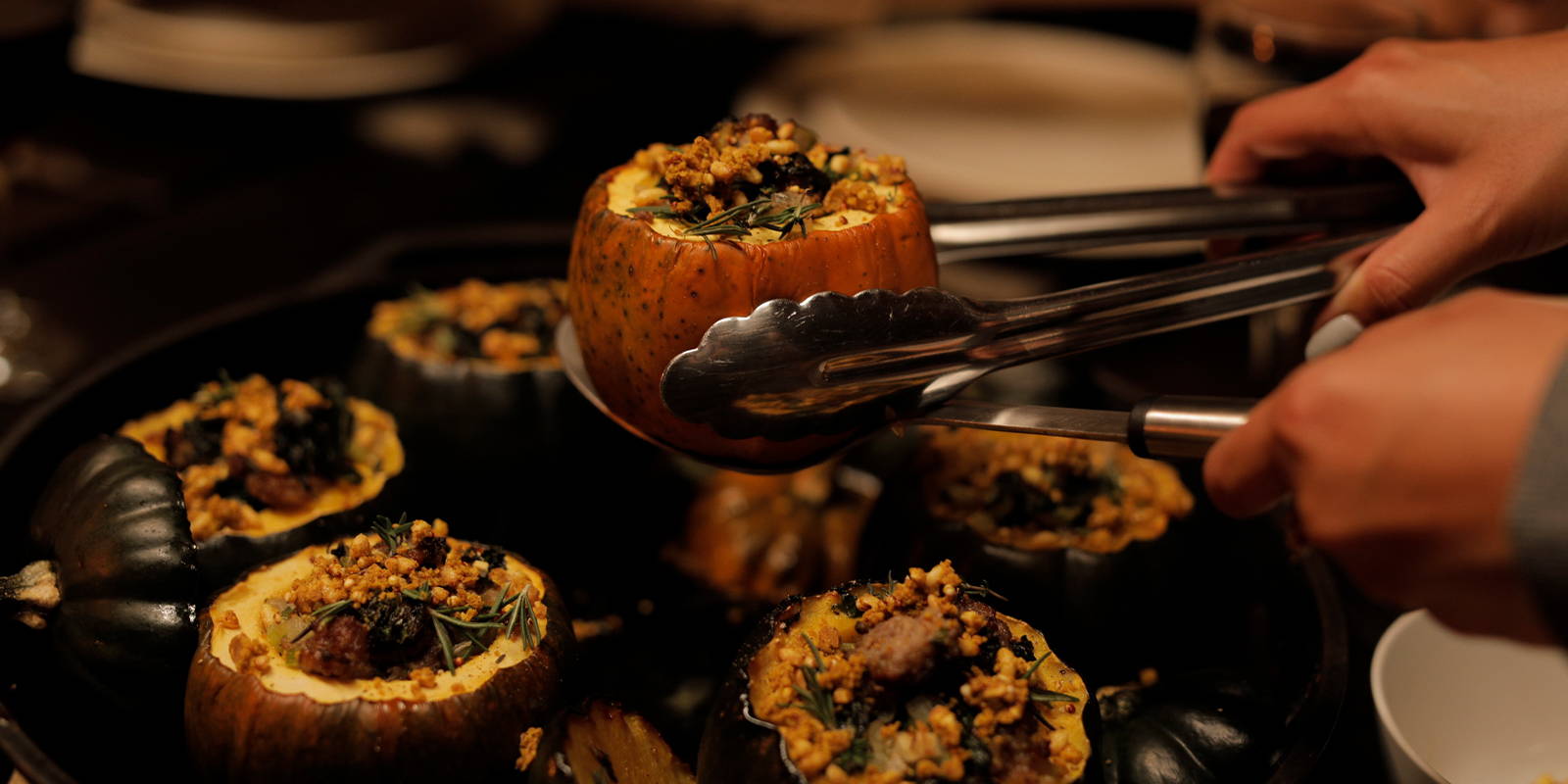 SERVES: 6
PREP TIME: 20 minutes
TOTAL TIME: 1 hour 20 minutes
3  small acorn squash, halved and seeded with ends cut off
3  tablespoons extra-virgin olive oil
1/2  Pound sweet Italian sausage (or 8 oz shiitake mushrooms, cleaned and trimmed)
Salt
Freshly ground black pepper
1  cup uncooked farro
2  cups + 2 tbsp apple cider, divided
2  sprigs fresh thyme
1  tablespoon fresh thyme, chopped
1/2  medium yellow onion, chopped
2  cloves garlic, minced
2  stalks celery, chopped
1 bunch Tuscan kale, stems removed, chopped
3  ZENB Veggie Sticks, any flavor, crumbled

Squash
1.  Preheat oven to 400°. Brush squash and skin with 2 tablespoons olive oil.
2.  Season with salt and pepper, and roast for 30-35 minutes.
3.  While roasting, make farro.
4.  Combine farro with 2 cups cider, 1 cup water, and thyme sprigs in a medium saucepan. Bring to a simmer and cook, stirring occasionally, until liquid is evaporated, about 25 to 30 minutes
5.  If your liquid is evaporated and farro is not yet tender, add more water, and continue cooking.
6.  While farro cooks, make filling.  

Filling

1.  Heat remaining oil in a large skillet over medium heat.
2.  Add sausage (or shiitake mushrooms) and cook, breaking up with a wooden spoon and stirring occasionally for about 5 minutes.
3.  Remove sausage (or mushrooms) with a spoon and place onto a paper-towel lined plate.
4.  Drain fat from the skillet, reserving about 1 tablespoon for cooking.
5.  Add onion and celery to skillet with reserved oil and cook on medium heat for about 6 minutes. 
6.  Season with salt and pepper.
7.  Add garlic and chopped thyme and cook about 1 minute more.
8.  Add kale and cook, stirring frequently.
9.  Add remaining 2 tablespoons cider after 4 minutes of cooking, then cook 4 minutes more.
10. Add cooked farro and sausage (or mushrooms) to skillet with rest of veggies and stir to combine.
11. Divide filling among the 6 squash halves.
12. Switch oven to broil and broil until tops are golden and filling is warmed, about 2 to 3 minutes.
13. Top each half of squash with a sprinkle of ZENB Veggie Sticks.
14. Serve, share, savor!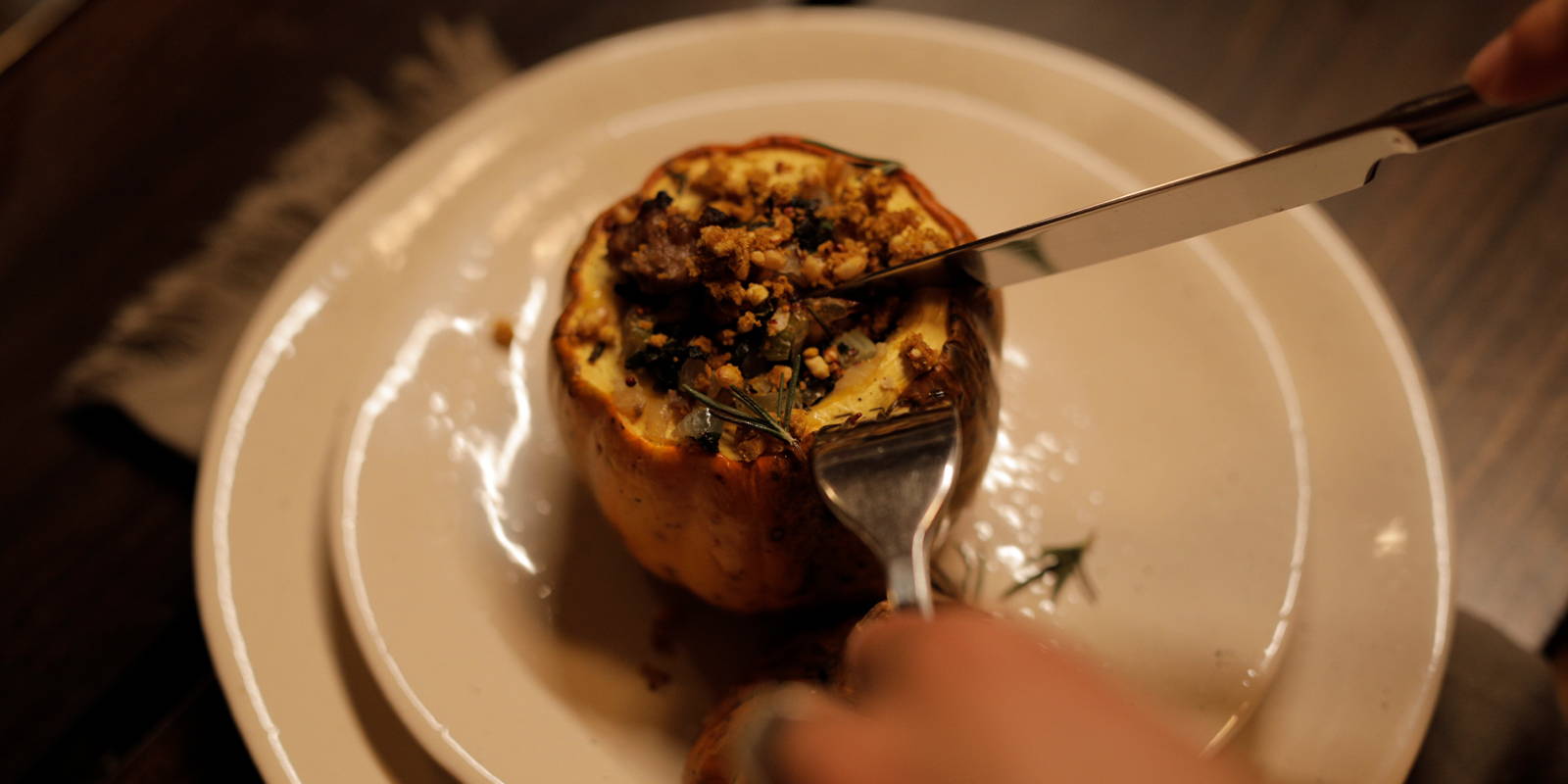 ---