Nicole Berrie of @bonberi x ZENB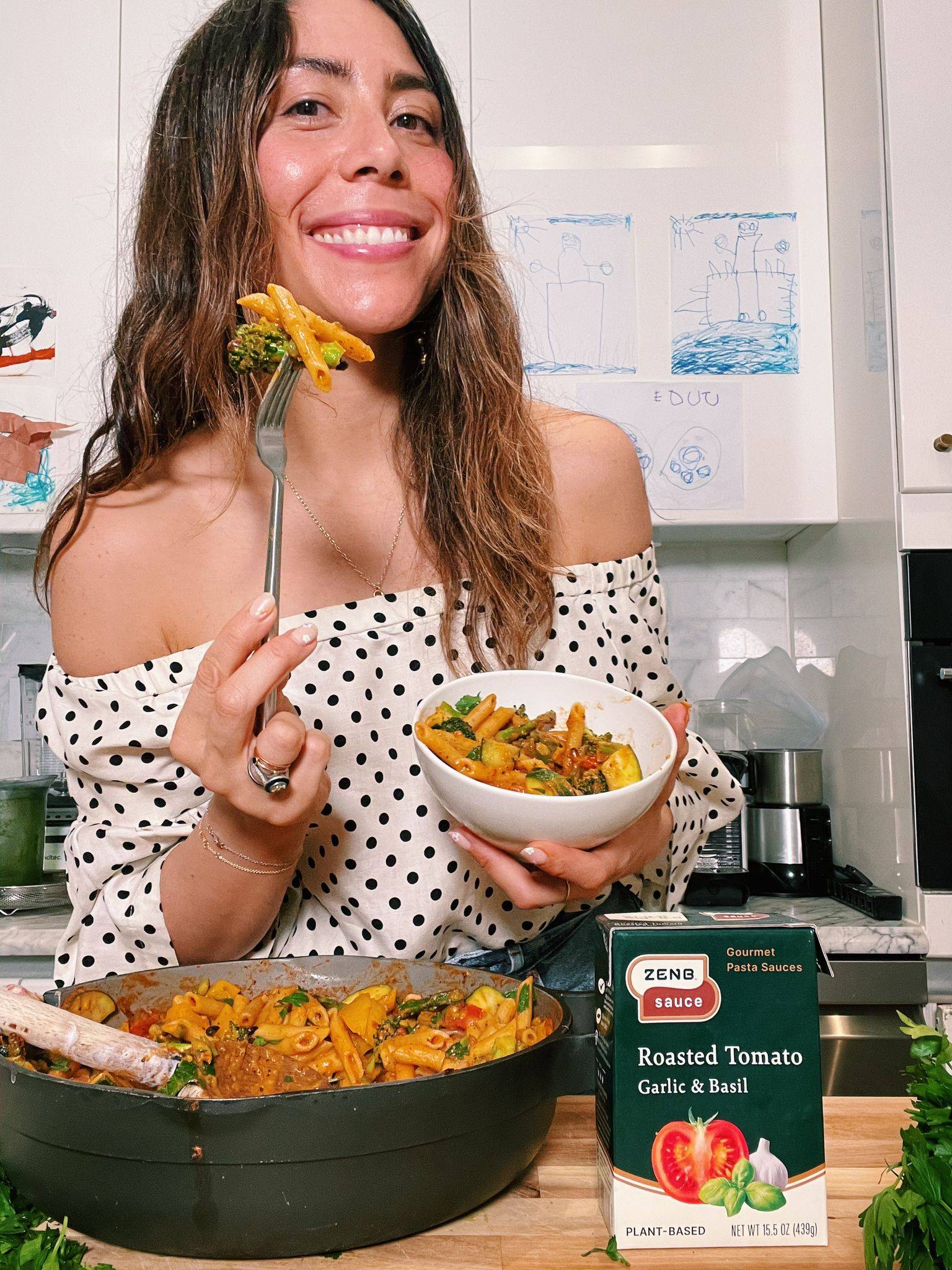 When it comes to cooking at home, there is nothing I love more than a simple quick dinner in the summertime with my family. All the abundant produce in the summer makes simple, flavorful cooking that much easier! Enter one of our faves: Zucchini Pizza Boats! I love this dish because it maximizes seasonality with summer squash, fresh basil and of course, my favorite ZENB Gourmet Pasta Sauce. Check out the full recipe below, along with tips on how to ensure your summer entertaining is packed with plant-powered goodness, but tastes oooh so yummy.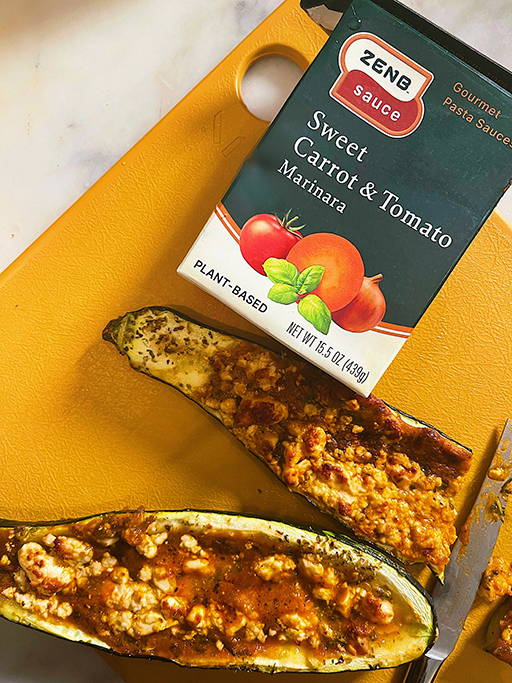 ZENB Sweet Carrot & Tomato Marinara Zucchini Pizza Boats
Servings: 2
Prep Time: 5 - 10 minutes
Cook Time: 20 - 25 minutes
1 carton ZENB Sweet Carrot & Tomato Marinara Gourmet Sauce
1 bunch fresh basil
1/4 cup favorite shredded vegan cheese or goat/sheep's milk feta cheese
1 teaspoon dried oregano
2 large zucchini
1 to 2 tablespoons avocado or olive oil
Optional: flaky sea salt or red chili flakes
1. Preheat oven to 425 or 450°F.
2. Using a sharp knife, slice zucchini in half lengthwise. Scoop out seeds with a spoon to form "boats". In a food processor or blender, combine basil and ZENB Sweet Carrot & Tomato Marinara. Blend until creamy. Rub zucchini boats with avocado oil and season with sea salt and oregano.
3. Spoon sauce into zucchini boats, about 2-3 tablespoons and spread evenly. Sprinkle cheese over boats. Place on a baking sheet and bake for 20-25 minutes until browned and cheese is bubbly. Let cool and enjoy!

Plant-Powered Summer Entertaining Tips
One of my favorite summer tips is making a big pasta salad with ZENB Rotini. Just chop up tons of seasonal herbs like basil and mint and add hydrating summer veg like tomato and cucumber, a little olive oil, lemon and garlic and you're good to go! It's great served heated, or served cold immediately, plus it makes a great BBQ meal or side as well.



I love gazpacho in the hotter months and you can totally make a refreshing version with ZENB Sweet Carrot & Tomato Marinara Gourmet Sauce! Just blend with a little ice and water until smooth, and enjoy!
Instead of heavier mac & cheese sides at your BBQ, swap in ZENB Elbows and toss with olive oil, almond milk nutritional yeast and sea salt for a quickie, plantified dupe!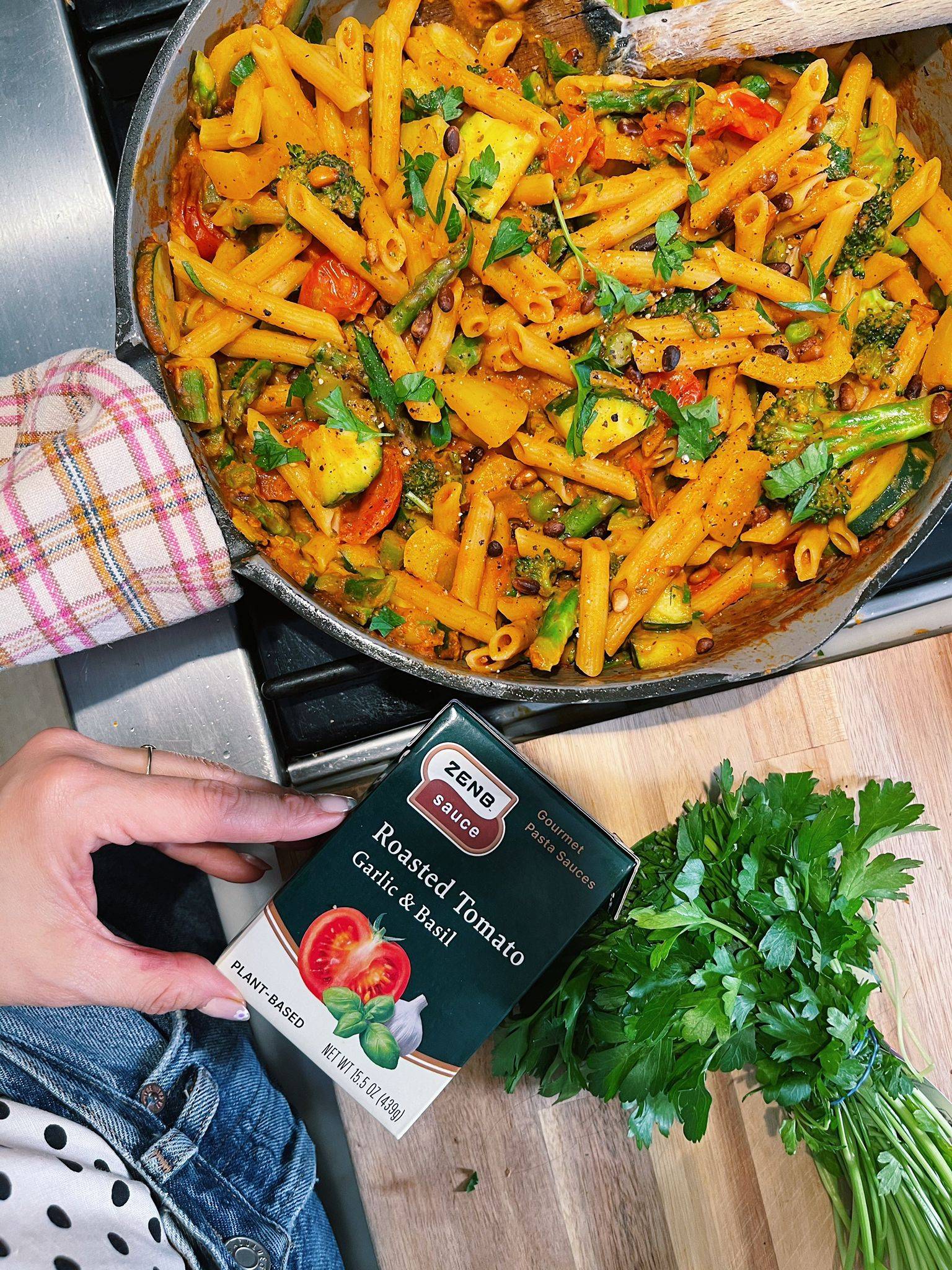 Servings: 2 - 4
Prep Time: 10 minutes
Cook Time: 25 minutes
1 carton of ZENB Roasted Tomato, Garlic, & Basil Gourmet Sauce
1 box ZENB Penne Pasta made with 100% Yellow Peas
1/2 cup sweet peas, defrosted
1 cup asparagus, chopped
1 cup bell peppers, chopped
1 cup broccoli florets
1 cup zucchini, chopped
1 cup fresh tomatoes, chopped
2 cloves garlic, sliced
2 tablespoons nutritional yeast
1/2 cup unsweetened plant-based milk
Fresh parsley
1 teaspoons dried oregano
1/4 cup toasted pine nuts
Salt/pepper
Red chili flakes (optional)
2 tablespoons olive oil
1. Cook ZENB Pasta as directed on box and set aside.
2. In a large pan, heat olive oil, add sliced garlic. Then add all veggies and sauté, adding oregano, a little salt and pepper to season. Cook for about 5 minutes, adding a little water to help veggies cook down on a medium high heat.
3. Add ZENB Roasted Tomato, Garlic, & Basil Sauce and continue to sauté on high. Add plant-based milk and nutritional yeast, and sauté for another 3 minutes. Add cooked pasta into pan and mix well.

4. Turn off heat and mix in chopped parsley, half of toasted pine nuts, red chili flakes (if using) and season with more salt and pepper if needed. Ladle into bowls and top with more parsley, pine nuts and chili flakes. Serve hot!
Have your own tasty recipes, blogs, and photos for the ZENB community? We'd love to share them!
Reach out on social or send them to us at community@ZENB.com.