Mary Smith of @maryswholelife x ZENB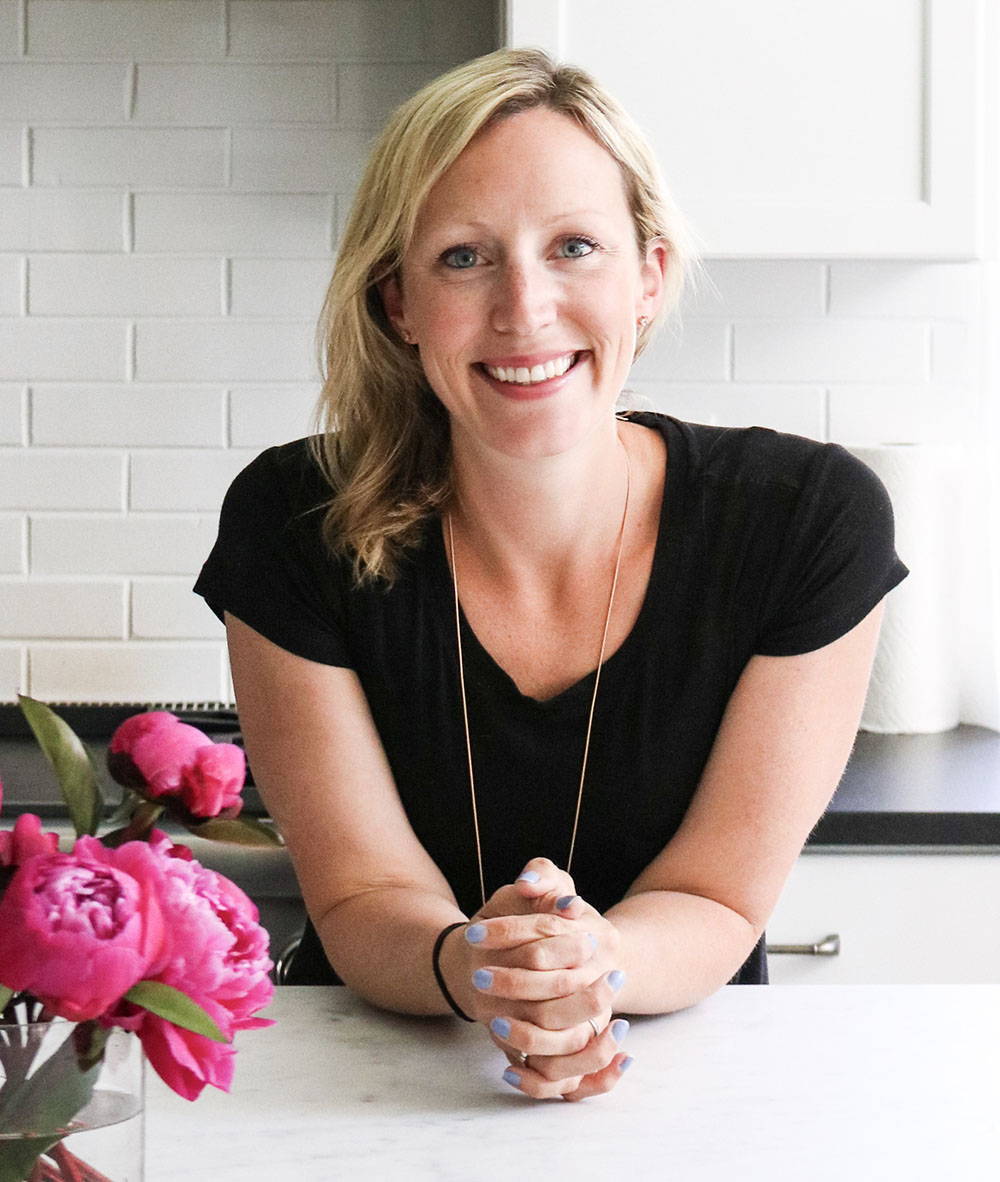 These meatballs are ideal for bringing to all of your picnics and BBQ's this summer! They are baked in the oven and then simmered in a creamy dairy free sauce made with ZENB Sweet Carrot & Tomato Marinara. Check out my recipe below!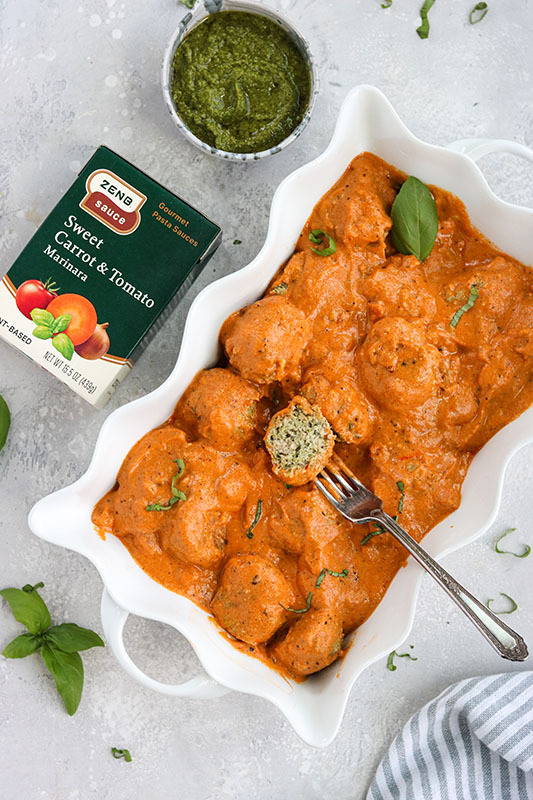 Pesto Turkey Meatballs in Creamy Cashew & ZENB Gourmet Pasta Sauce
Makes 30 meatballs
Prep Time: 10 minutes
Cook Time: 20 minutes
2 pounds ground turkey
2 eggs
1/2 cup almond flour
1/3 cup dairy free pesto
1/2 teaspoon crushed red pepper
1 tablespoon Italian Seasoning
1 teaspoon sea salt
3 cartons ZENB Sweet Carrot & Tomato Marinara
1 cup raw, unsalted cashews
1 cup water
1. Preheat your oven to 400°F. Line a large baking sheet (15x21 inches) with parchment paper.
2. Combine the ground turkey, eggs, almond flour, pesto, crushed red pepper, Italian Seasoning, and salt in a large bowl. Mix well using your hands. Roll the meat mixture into 30 balls, approximately 1.5 inches in diameter. Bake the meatballs for 18 minutes.
3. While the meatballs bake, make the sauce. Add the ZENB Sweet Carrot & Tomato Marinara to a large skillet or pot. Heat it over medium heat while you make the cashew cream. Combine the cashews and water in a high-speed blender and blend on high for 1 minute. Pour the cashew cream into the sauce and stir until combined. Let it simmer while the meatballs finish cooking.
4. Add the cooked meatballs into the sauce and simmer on low until you're ready to serve. You can also add the sauce and meatballs to a crock pot once cooked to keep them warm.
This pasta is so delicious. It's made from 100% yellow peas and tastes just like real pasta 💯. This recipe brings me right back to childhood — comfort food at its finest!
Chili Mac with ZENB Elbows Pasta
Servings: 4
Prep Time: 10 minutes
Cook Time: 15 minutes
1 box (12 oz) ZENB Elbows Pasta made from 100% Yellow Peas
1 pound ground beef
1 tablespoon olive oil
2 tablespoon butter or ghee
1 cup onion, diced
1 cup green pepper, diced
4 cloves garlic, minced
2 tablespoon tomato paste
1 box (15.5 oz) ZENB Roasted Tomato, Garlic & Basil Gourmet Sauce
1 can (14.5 oz) diced tomatoes with juices
2 tablespoon coconut aminos
1 teaspoon sea salt (more to taste)
2 teaspoon Italian seasoning
1 cup shredded cheese (optional)
1. Bring a pot of water to a boil and cook ZENB Elbows Pasta according to package directions.
2. Meanwhile, heat the olive oil in a large deep skillet or dutch oven. Add the ground beef and cook for 5-7 minutes, breaking it apart using a wooden spoon. The beef should be mostly browned and cooked through. Remove it from the pan using a slotted spoon and discard any remaining grease.
3. Melt the butter or ghee over medium heat in the same skillet. Add in the diced onion, diced green pepper, and minced garlic. Saute for 4-5 minutes until they begin to soften and the garlic is fragrant.
4. Add the ground beef back into the pan along with the tomato paste, ZENB Roasted Tomato, Garlic, & Basil Gourmet Sauce, diced tomatoes with juices, coconut aminos, salt, and Italian seasoning. Stir well and bring to a boil over medium heat. Reduce heat to low while the pasta finishes cooking.
5. Drain the pasta and add it to the pot with the sauce. Stir well and add cheese if desired. Serve with fresh chopped parsley and enjoy!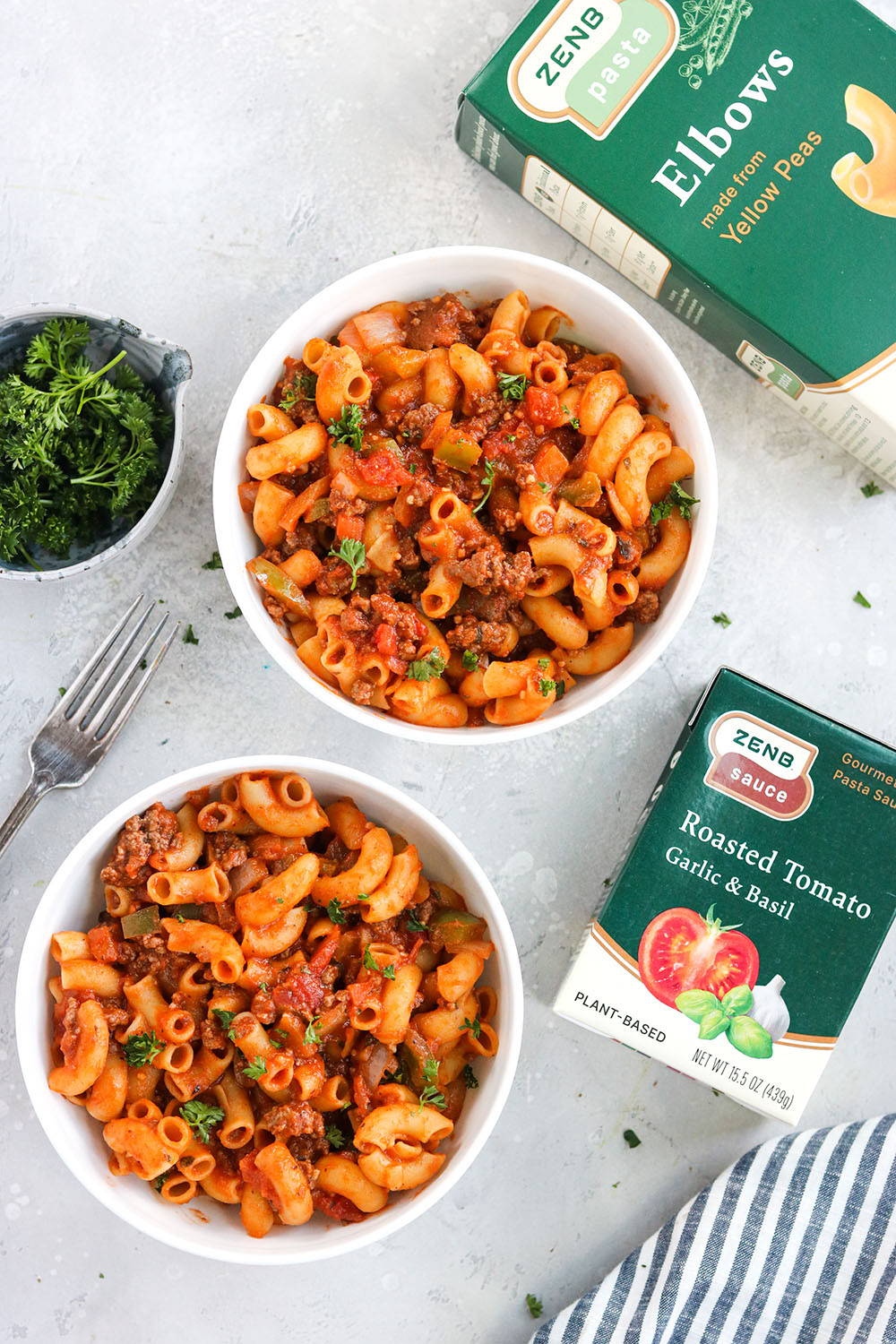 In 2016, after a few years of feeling terrible with no explanation, at age 32, I was diagnosed with Celiac Disease. If you aren't familiar with Celiac, it is an autoimmune condition where eating gluten causes an immune reaction in the small intestine. The villi — the small fingerlike projections in your intestine that help to absorb nutrients —become flattened. This can lead to a variety of issues like malnutrition / malabsorption, constipation, stomach pains, and lots of other things not even related to GI — like migraines and skin issues. I manage my Celiac Disease by eating a gluten free-diet. 
When I first received this news, I was a bit distraught but also relieved. I had been uncomfortable and frustrated for so long. After the birth of my 2nd child in 2015, I experienced terrible migraines, rapid weight loss, anemia, eczema, and a variety of other symptoms. After a couple of years of doctors not being able to figure out what was going on, I decided to ask for a Celiac blood test. It kept popping up in my Google searches and I figured it wouldn't hurt to rule it out. Turns out it was positive, which was then confirmed by a Gastroenterologist. It was nice to finally have some answers, but I knew it was also going to be a pretty challenging life change. Up until that point I pretty much ate whatever I wanted, and this gluten-free world was completely new to me! ​
I learned so much in those first few months, like how gluten hides in SO many things! Lots of condiments, sauces, ice cream, deli meats, rice cereals, prescription medications, and more. Also, I learned that cross contamination is a big issue for those with Celiac. Basically, if something with gluten is cooked on the same surface as something that is gluten-free, you can still get sick. ​
I decided from the beginning that I was going to eat as healthy as possible and eliminate not only gluten, but dairy as well while I let myself heal. I followed a paleo diet for the first couple of years and started to feel so much better. Focusing on eating as much unprocessed, nutrient-dense food as possible is what I tried to do. This is also when my blog, www.maryswholelife.com, was born! I was having so much fun sharing my new gluten free finds and favorite recipes, that I decided I wanted to have a place to refer back to it all. This was definitely another blessing in disguise that came along with my diagnosis. Now I get to help lots of people make the transition to a gluten free lifestyle, while still being able to eat delicious, easy meals! 
ZENB Pasta and their new Gourmet Sauces fit perfectly into my lifestyle, because they are packed with nutrients and gluten-free. I love that yellow peas add so much fiber into my diet! Not to mention the fact that I feel like I am enjoying regular pasta and don't feel I am missing out on anything. ​
I created a recipe Chili Mac recently using ZENB Elbows and their Roasted Tomato, Garlic & Basil Gourmet Sauce. It's so easy to make and brings me right back to my childhood!
Some tips and tricks for going gluten free, whether as part of your lifestyle or for simple swaps: ​
Read ALL labels. Like I mentioned, gluten hides in a lot of things that aren't necessarily obvious. Look for certified gluten free labels if possible. ​
Bring your own dishes to gatherings or offer to host people at your house so you can cook safely. ZENB Pasta and Gourmet Sauce make a great GF-friendly meal! ​
Don't share toasters, pots and pans, or cutting boards/surfaces with family members. Make sure to use your own.​
At restaurants, ask to speak to the chef or manager to ensure they are doing everything possible to prepare a gluten free/safe meal for you. ​
Just know, it will be ok! While the idea of going gluten free can seem daunting at first, just know that you can still enjoy life to the fullest complete with many of the same dishes you used to love. It might just take some swapping out of certain ingredients and getting creative! ​
Note: The information and other content provided in this blog, website or in any linked materials are not intended and should not be considered, or used as a substitute for, medical advice, diagnosis or treatment. If you or any other person has a medical concern, you should consult with your health care provider
Have your own tasty recipes, blogs, and photos for the ZENB community? We'd love to share them!
Reach out on social or send them to us at community@ZENB.com.