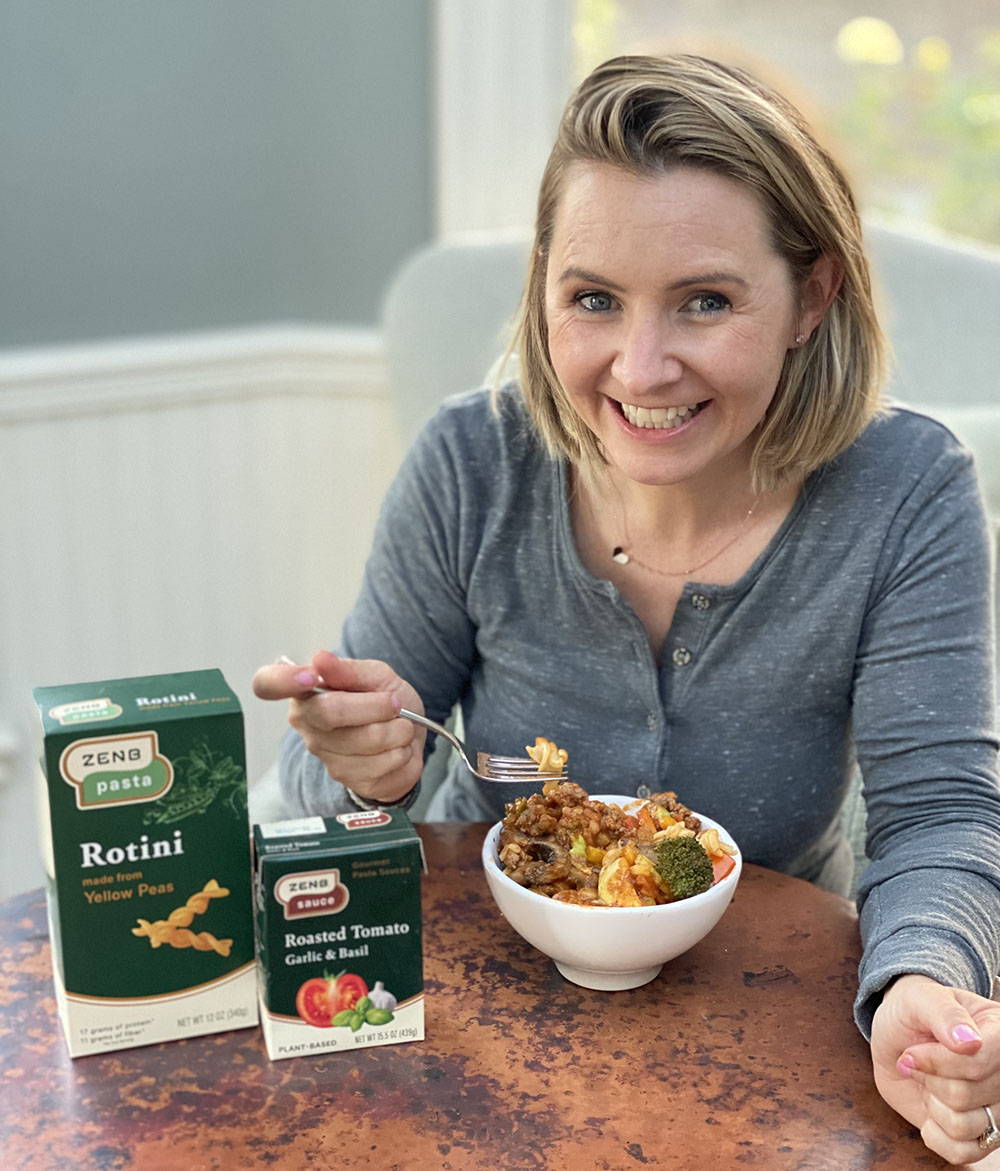 SUMMER IS HERE! So that means it's time for some fun, and one thing we love to do is get in the kitchen for PIZZA NIGHT! These days I am all about the cauliflower crust pizza with my @ZENB_Life Sweet Carrot & Tomato Marinara Gourmet Pasta Sauce. Check out my recipe below!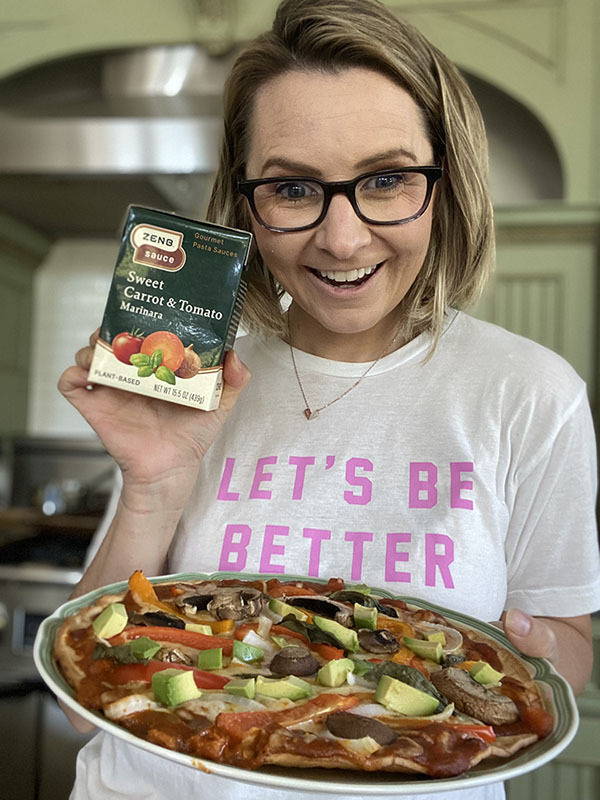 Cauliflower Pizza Crust with ZENB Sweet Carrot & Tomato Marinara
Servings: 8
Prep Time: 10 minutes
Cook Time: 45 minutes
1 large head cauliflower, stalk removed, cut into florets
1 cup shredded part-skim mozzarella cheese, divided
1/4 cup finely grated parmesan cheese
1/2 teaspoon dried oregano
1/4 teaspoon garlic powder
2 large eggs, beaten
1 cup ZENB Sweet Carrot and Tomato Marinara Gourmet Pasta Sauce
1/4 cup loosely packed fresh basil leaves
1 teaspoon crushed red pepper flakes
1. Preheat oven to 450°F. Pulse cauliflower florets in food processor until mixture resembles rice. Transfer to microwave-safe bowl; cook on high 5 minutes or until tender. Let stand until cool enough to handle. Transfer cauliflower to clean kitchen towel; squeeze out excess liquid.
2. Combine cauliflower, 1/2 cup mozzarella, Parmesan, oregano, garlic and eggs in large bowl. Form mixture into four, 5-inch-wide disks on parchment lined baking sheet.
3. Bake 25-30 minutes or until edges begin to brown. Spoon ZENB Sauce onto crusts, leaving 1/2-inch border. Sprinkle remaining mozzarella over crusts. Bake 9-10 minutes until cheese is melted and bottom of crusts are golden. Garnish with basil and red pepper flakes before serving.
Add on your own favorite toppings to make it your own! Here are a few topping ideas: bell peppers, basil, onions, mushrooms, pepperoni, squash blossoms, avocado.
Fun & Delicious Pizza Night Ideas for the Whole Family
As I'm sure fellow parents can attest, we want our kids to eat healthy. And while we would love our kids to LOVE vegetables, not all do. My kids are pretty good, they actually enjoy SOME vegetables. But I am always looking for new ways to incorporate even more veggies into their favorite meals. That is how I fell in love with ZENB. We took our favorite pasta dish and made it that much better by replacing traditional pasta with ZENB Pasta made from 100% yellow peas, including the skin. It's made even better when I pair the pasta with the new Gourmet Pasta Sauce, which is made with a chef-inspired blend of herbs, spices, and one cup of veggies per serving. Throw in extra veggies and you got yourself a meal packed with nutrients. The best part is that it's a meal the whole family can make and enjoy together!
I would not call myself the best chef but through the last year, I have been cooking a lot more than before, as I'm sure many others have experienced. And through my adventures in the kitchen, I have found myself trying new things and branching out, from testing out new recipes, utilizing different ingredients and even playing around with different food pairings. Years ago, I would never have the confidence to try new things, but now cooking is a passion of mine.  I enjoy my time in the kitchen and finding my favorite staples is key. My advice is to not be afraid to try new things and step out of your comfort zone — you'll never know until you try. Finding new products and ingredients that you feel good about is a step in the right direction.
We recently branched out and tried cauliflower pizza crust, something new for my family that is so yummy! We made it a special evening affair, where we each made our own pizza creation. My husband and I love all the veggies and included bell peppers, mushrooms, onions, basil, cheese, and avocado (check out the recipe above!). Meanwhile, my kids went the cheese or pepperoni route. This summer, if you and your family are looking for something to do one evening, I highly suggest having a pizza party night where everyone can get hands-on in the kitchen. Check out below for some tips & tricks for having a family fun pizza night in:
Have various toppings on hand so everyone can customize their own pizza — prepare ingredients before you begin pizza night (chop veggies, cook sausage crumbles, etc.) so it's ready to go!
Forgo the store-bought crust and make your own, this is great if anyone has any dietary restrictions too — you'll know exactly what's going into your pizza.
If you are making your dough, have the kids help and turn it into a fun learning opportunity, such as learning about measurements.
Offer a variety of sauce types to maximize customization — my personal favorite is adding on ZENB Sweet Carrot & Tomato Marinara!
Make extra for leftovers — you'll thank yourself the next day when you have lunch for the kids ready to go. Just reheat and eat.
Don't let the fun stop after you enjoy your delicious homemade pizzas — play games to spend more quality family time together.
Just remember don't be afraid to step outside of the box and try something new, you might be surprised at how much everyone will love your meals. 
Parenthood is hard enough; we certainly don't need to stress about dinner. Dinner is a time to sit down and connect and reflect on the day with the family and recharge.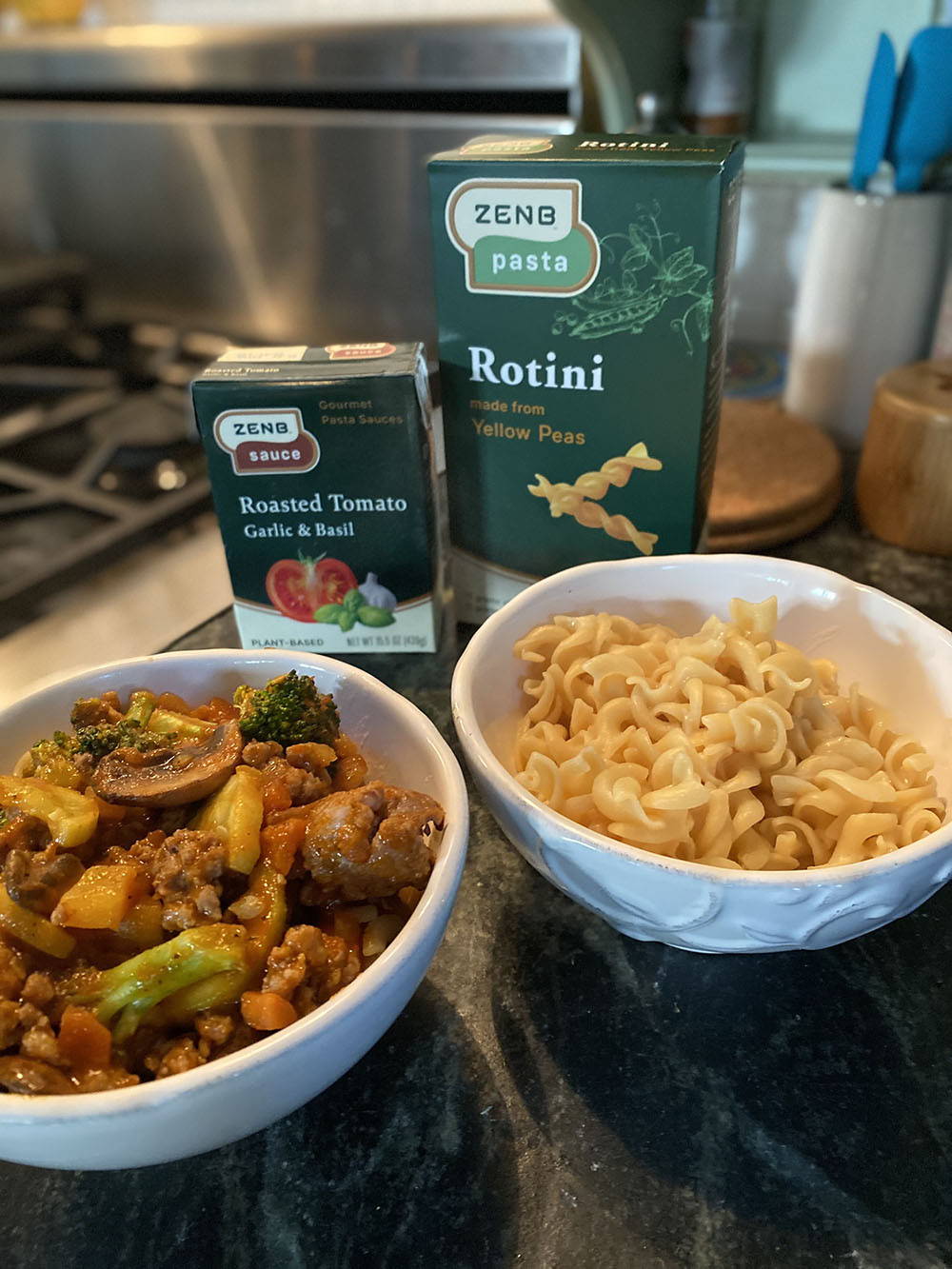 ZENB Gourmet Sauce Kitchen Fridge Veggie Delight
Servings: 4
Prep Time: 10 minutes
Cook Time: 20 minutes
1 box (12 oz) ZENB Rotini Pasta made with 100% Yellow Peas
2 cups of mushrooms, sliced
1 yellow bell pepper, diced
1 orange bell pepper, diced
1 yellow squash, sliced and halved
1 zucchini, sliced and halved
1/2 of a white onion, diced
6 cloves of garlic, finely chopped
1 bunch of Broccoli, chopped
1 pound sausage
1 carton (15.5 oz) ZENB Roasted Tomato, Garlic, & Basil Gourmet Pasta Sauce
1. Cook ZENB Pasta as directed on box. In a medium pan, heat up olive oil and add in the sausage — cook on medium to high heat for about 10 minutes, until sausage is browned and crumbled.
2. At the same time, heat up olive oil in a large pan and sauté the garlic and veggies until cooked, for about 5-7 minutes. Combine the sausage and veggie mixture and add in the ZENB Roasted Tomato, Garlic, & Basil Gourmet Sauce and stir until the mixture is completely coated.
3. Add the mixture into your ZENB Pasta to complete the meal.
Have your own tasty recipes, blogs, and photos for the ZENB community? We'd love to share them!
Reach out on social or send them to us at community@ZENB.com.